Dumplings are balls of dough that are boiled, fried, or baked, and they're little lumps of goodness. They 're found in many different cultures, are sweet or savory, and may have a tasty filling. It's daunting to think of making them yourself instead of, say, ordering them at your favorite dim sum place, but these recipes are totally doable. Give them a try!
Cantonese Shumai Recipe 烧卖 in 3 Simple Steps by Taste of Asian Food
From the website: "Shumai remains as my favorite Dim Sum through the years. My mother-in-law loved to make a large tray of Shumai at home. She used a large metal round tray to hold the Shumai instead of the bamboo steamer because she wanted to make as many Shumai as possible for everyone in the family to enjoy.  She showed me how to make Cantonese Shumai with chop shrimps and pork, which I still remember vividly until today."
Japanese GYOZA (Dumplings) by RecipeTin Eats
From the website: "I am seriously in love with Gyoza. The crispy golden base and the steamed top. I also love the way it's cooked – just in a skillet – no steamer required! It's honestly one of my all-time favorite foods. And I do get a little kick out of our tradition to gather and wrap the Gyoza together."
Korean Mandoo Dumplings by Flash Fiction Kitchen
From the website: "'Come,' said the young man, leading her into the big communal hall, where villagers sat making dumplings and other dishes for the festival. He sat down and began to fill mandoo skins.
'But…that's woman's work…' said the Princess.
"And yet here are my fingers, doing it," said the young man. "Yours will too, I believe." 
The Princess looked around her. The women around her were gaunt, their clothes threadbare. It was evident they rarely had meals like today's. 
'I don't think we should be eating their food,' she whispered to the young man. 
'This one meal you'll eat is not the problem. The problem is that officials under your father tax the villagers out of their harvest and seize food stores for their own personal gain. That is the reason why the villagers suffer – not because of their generosity to guests.'
The Princess stared at her hands – white and smooth, like the rice cakes she ate every day with tea – and the hands of the young man and the woman next to him, brown, cracked, rough with labor. Silently she began to roll out dumplings."
Frying Pan Soup Dumplings by Tasty
Easy Homemade Dumplings by Tablespoon
From the website: "When temperatures plummet and you're craving something warm and cozy, you can't go wrong with fluffy homemade dumplings. Don't let their reputation for being fussy fool you. These dumplings may taste like they took all day in the kitchen but with just four ingredients and three simple steps, our homemade dumplings recipe is beyond easy."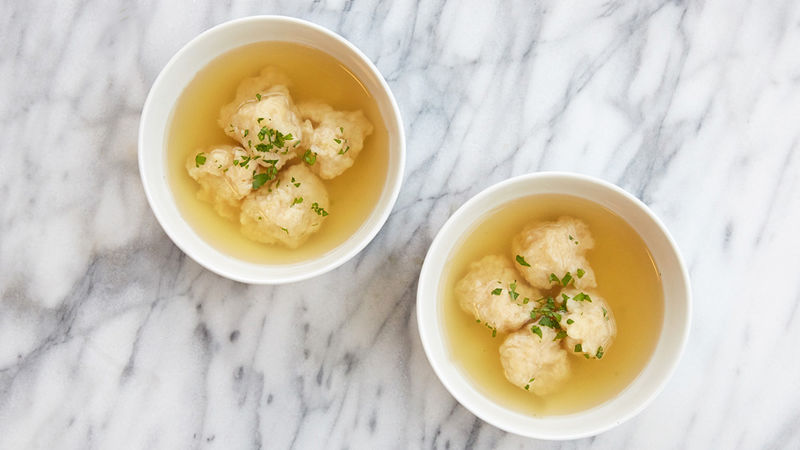 Authentic Semmelknödel (German Bread Dumplings) by The Daring Gourmet
From the website: "A specialty of the Bavaria region of southern Germany, drenched in gravy these famous SemmelKnödel (German Bread Dumplings) are pure heaven!"
Homemade Pierogi by King Arthur Flour
From the website: "Pierogi (boiled filled dumplings) were originally peasant fare native to Central and Eastern Europe; we find mention of pierogi in Polish documents as early as the 17th century. But these savory dumplings have overcome class boundaries and become popular among those in all walks of life. They're served at many festivals; and family gatherings just have to have pierogi to be complete. At the 2007 Pierogi Festival in Kraków, Poland, 30,000 pierogi were consumed daily. Homemade pierogi are also an important part of Christmas Eve celebrations in many homes but aren't limited to the holidays; many enjoy them all year long.
Pierogi are very flexible and can be stuffed with a number of savory or sweet fillings, including potato and cheese (below); sauerkraut, cabbage, spiced meats, and even fruits and berries. Because pierogi freeze well, they make quick, satisfying last-minute meals. There are as many versions of pierogi as there are cooks who love them, and our take on this traditional treat mirrors many American pierogi recipes."
Turkish Manti Dumplings by Give Recipe
From the website: "Turkish manti is a food you have to taste! The tiny homemade pastry filled with spicy ground beef, cooked in water and served with a yogurt sauce. That butter sauce on manti dumplings is a to-die-for final touch."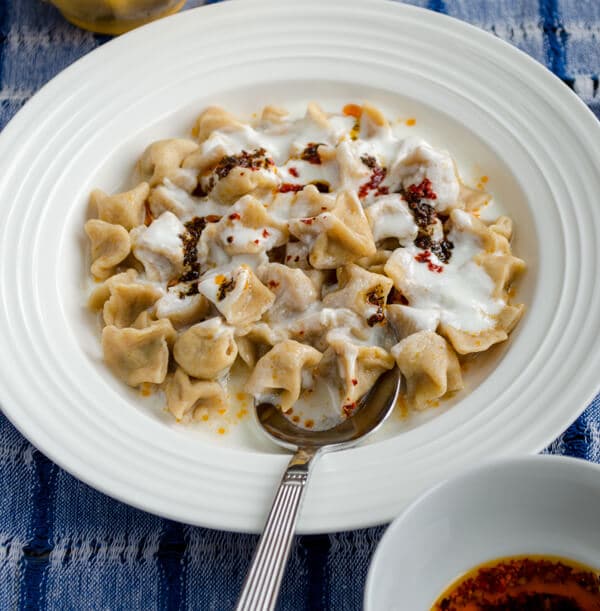 Catastrophe Kitchen | Potstickers by Sweatpants & Coffee
From the website: "One of my favorite late-night snacks is potstickers, or gyoza. From freezer to table in less than 15 minutes with NO WORK whatsoever– just put them in the pan and let 'em cook! But why buy a bag from the store when you can MAKE them SO MUCH CHEAPER and SO MUCH BETTER?? 
I'm serious. It's not hard (TWSS). My photos will look slightly off scale because I made a double batch, which I recommend to stock your freezer (a single batch makes about 60)."
Glazed Apple Dumplings by The Food Network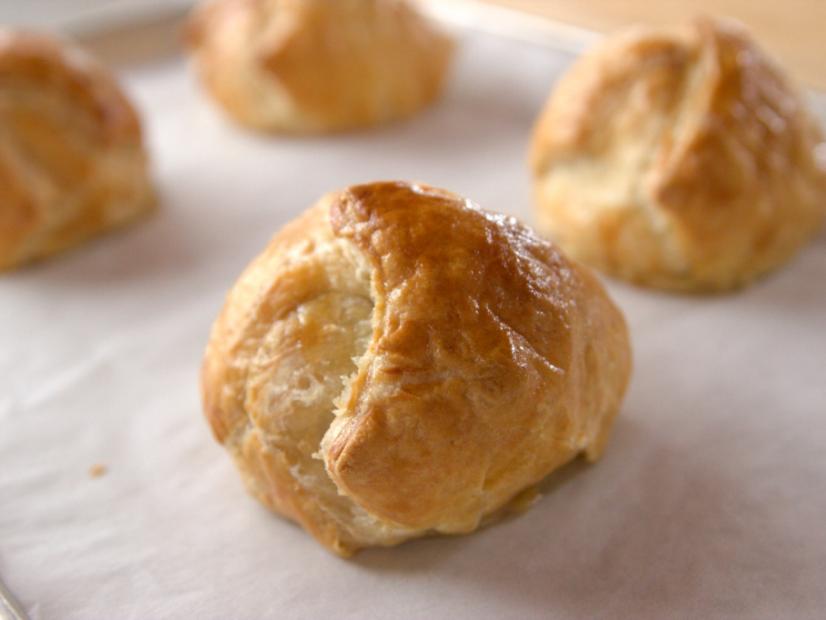 Crescent Roll Peach Dumplings by The Kitchen Is My Playground
From the website: "Rich crescent roll dough wraps around and embraces fresh peach quarters to create little peach-filled dumplings in this easy mouthwatering dessert.  Crescent Roll Peach Dumplings are then drenched in buttery cinnamon-sugar – making for one delicious comfort food dessert that's truly hard to resist."
Facebook Comments
comments