Have you always wanted to try crocheting? It's not only a fun, creative pursuit – it can be a therapeutic hobby. But, where to begin? These step-by-step tutorials will get you started, and here are some easy patterns to try as you become more confident.
1. 6 Basic Crochet Stitches for Beginners by The Spruce Crafts
From the website: "Crochet is an easy craft to learn because you only need to know a few stitches to be able to make a wide variety of different projects. Learn the most common beginner crochet stitches with this basic crochet stitch guide."
2. Crochet Tips – Straight Edges Everytime by Sewrella
From the website: "Have you ever approached a crochet project that includes a square or rectangle shaped piece and you wind up with wonky edges? Or the dreaded trapezoid shape?
I'll tell you a quick story, my first ever crochet blanket attempt wound up being a trapezoid. I didn't know where to place the first and last stitches in each row and because I wasn't stitching in the right places, the whole thing quickly went downhill. I wound up with a blanket that was much smaller on one end and a lot of frustration.
I've learned a lot since then and finished many a project with perfectly straight edges – it really is very simple if you know where to stitch!"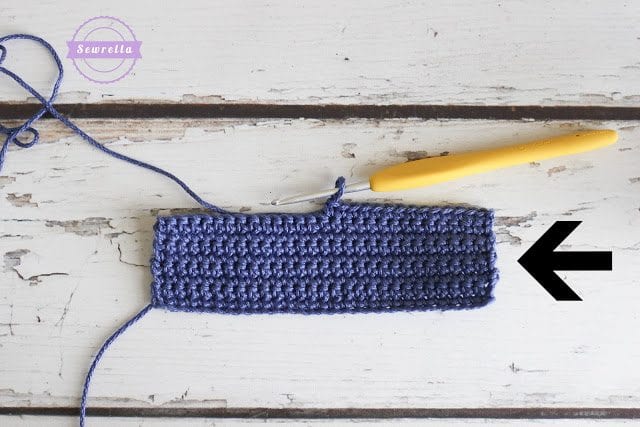 3. How to Join Yarn with the Magic Knot by RaffamusaDesigns
From the website: "Whether you crochet, knit, or do other yarn crafts, you have for sure come to the sad end of your ball of yarn. Now, if you are a navigated crafter, this might not be a problem for you and you already know what to do. However, if you are new to the yarn world, you might fall in despair and get stuck with your project. So, this easy photo tutorial is meant for all of you yarn newbie! Do not despair over your finished yarn ball! Just keep reading and learn how to join yarn with the Magic Knot!"
4. Welcome to Crochet: It's Time to Crush Your First Lesson by BluPrint
From the website: "If you've been perusing crochet boards on Pinterest and had a jonesing to start the craft, you've come to the right place. Even if you've never held a hook before or don't know a slip knot from a single crochet, this guide will help you pick up basic techniques and tips. Soon enough you'll be ready to crochet in rows, which is all you need to make a scarf or even a simple blanket."
5. How to Crochet a Small Granny Square Blanket by Patricia Fentie
From the website: "Super Easy Pattern! Join me for this easy and fun crochet project that is suited for the novice crocheter. The blanket is simply one big granny square, made from a single cake of yarn. It measures 27″ in diameter although you could carry on with another cake of yarn and make the blanket even bigger. This size is perfect for a baby blanket or a lap blanket."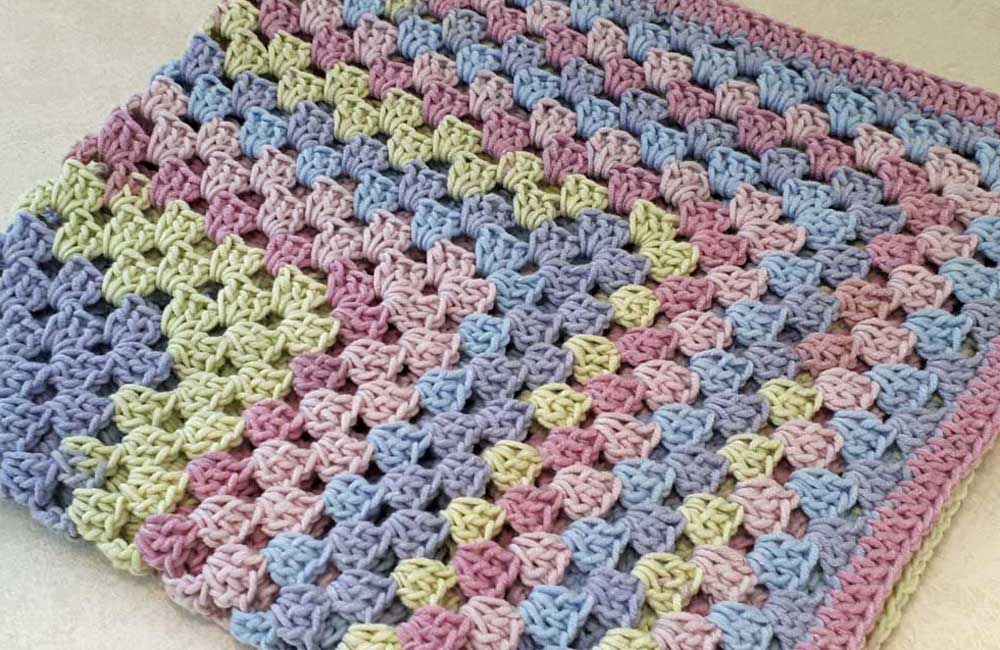 6. Single Crochet Blanket Pattern – Easy Single Stitch Crochet Blanket by Rescued Paw Designs
From the website: "Use this beginner-friendly single crochet stitch pattern to make a crochet blanket today! With just a few hours of work and only one crochet stitch, you can have a throw blanket in no time at all."
7. Crochet Coffee Cozy Pattern by Just Be Crafty
From the website: "Not only will these work great for warm beverages, but cold drinks as well!"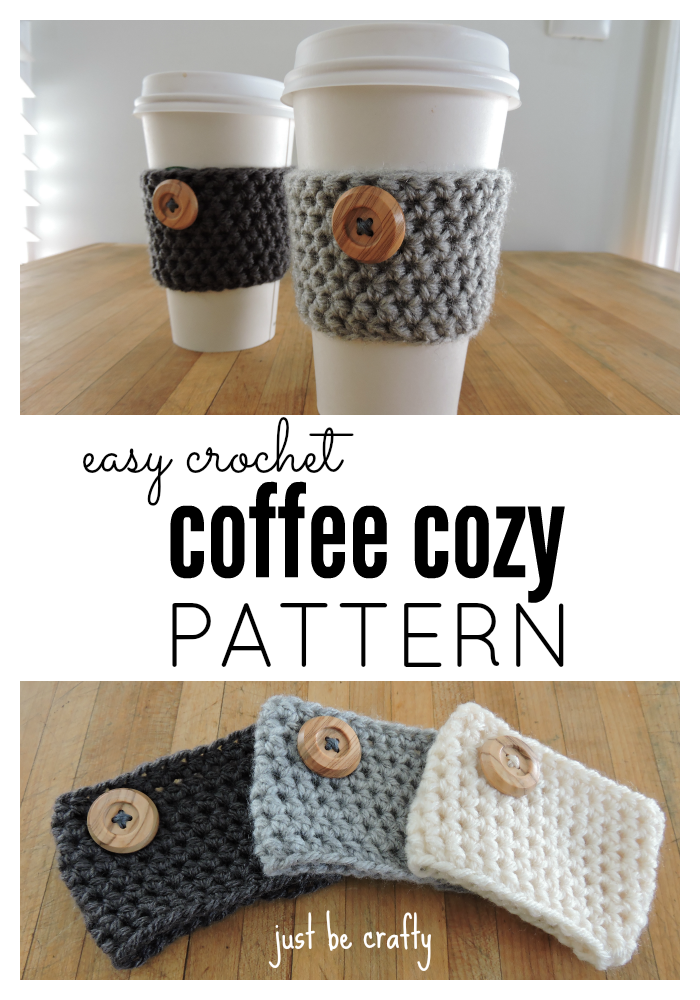 8. Crochet roses in 9 steps: Free crochet pattern with step by step pictures! by Hachi Yarns
From the website: "A rose is a rose is a rose. But a crochet rose is much better than a rose! Why, you ask? Well its oh-so-cute, it blooms all round the year in every color you want and what's more you made it all by yourself! Here's how you are going to do it, in (9) easy steps."
9. Free Crochet Shawl Granny Pattern by Rescued Paw Designs
From the website: "Have you been looking for an easy crochet shawl pattern? This shawl featuring the granny stitch may be it!"
10. Mini Amigurumi Pug Free Crochet Pattern by móhu
From the website: "Since these pugs are so easy to make, they're a great project for beginners. They only take about an hour to crochet, and require less than 15 meters (16.4 yards) of yarn, so they're good for using up leftovers too."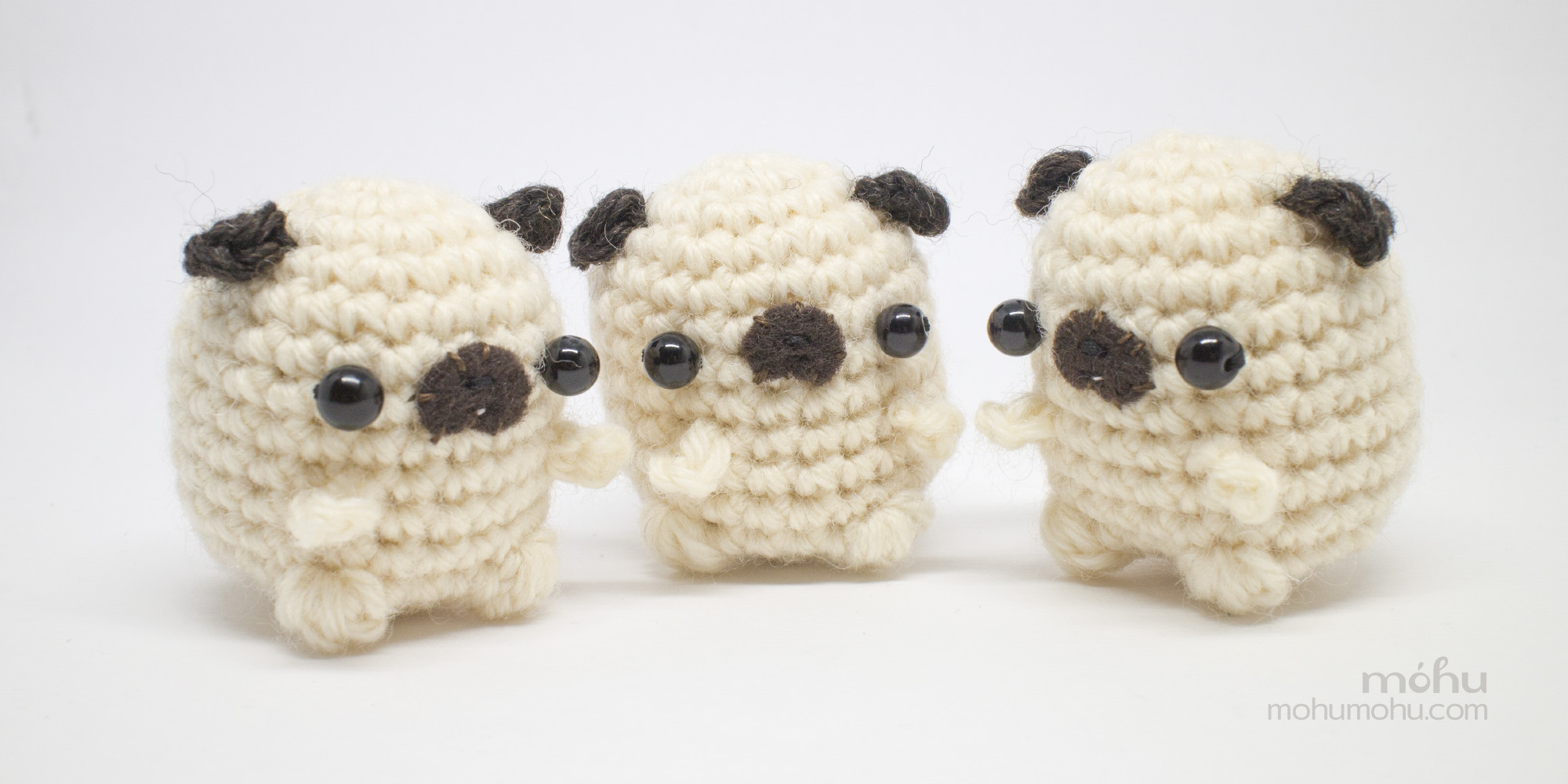 11. Easy Crochet Bag Tutorial Step By Step by CrochetBeja
From the website: "This quick free tutorial covers how to crochet a bag step by step – a lovely jasmine stitch bag that is easy to make. You will learn that crocheting this charming accessory is not only simple, but also a lot of fun!"
12. Farmhouse Striped Kitchen Towel – Free Crochet Towel Pattern by A Crocheted Simplicity
From the website: "I've been meaning to make a couple new crochet kitchen towels, but I wanted something a little less traditional in style. Having to constantly pick up the towels off the floor and wash them because they've slipped off the oven handle yet again, gets old in a quick hurry. After designing the Buffalo Plaid Kitchen Towel, I realized how much I loved the style and immediately started on the Farmhouse Striped Kitchen Towel."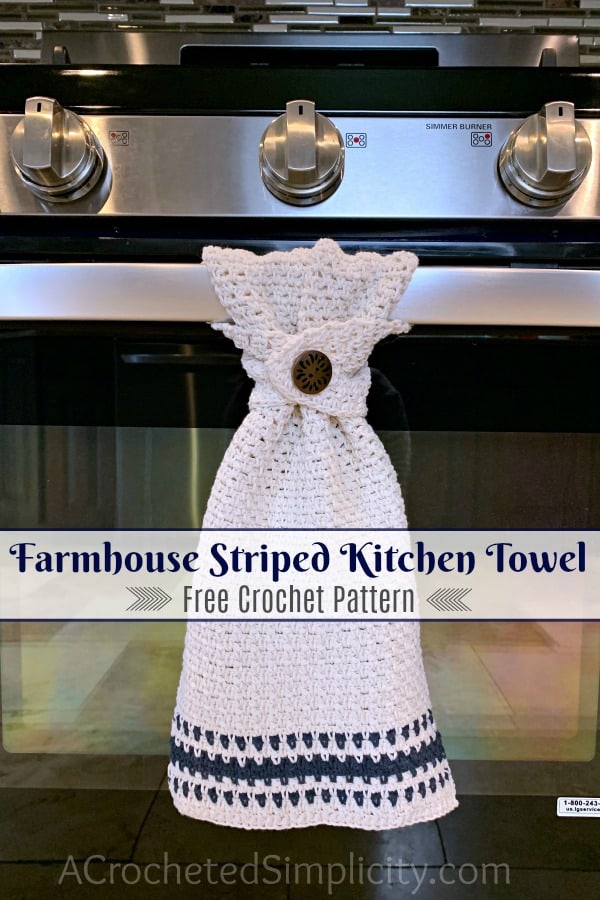 Facebook Comments
comments