Christmas day should be about pajamas and gift-wrap strewn everywhere and hanging out with loved ones. You don't need to be stuck in the kitchen fixing breakfast for a crowd. These make-ahead recipes are just the thing if you prefer to spend your morning relaxing and enjoying the holiday.
1. Cheesy Bacon Hash Brown Breakfast Casserole by Dinner Then Dessert
From the website: "Breakfast Casserole made with eggs, bacon, shredded potatoes, and cheese is the PERFECT make-ahead breakfast for busy mornings or holidays!"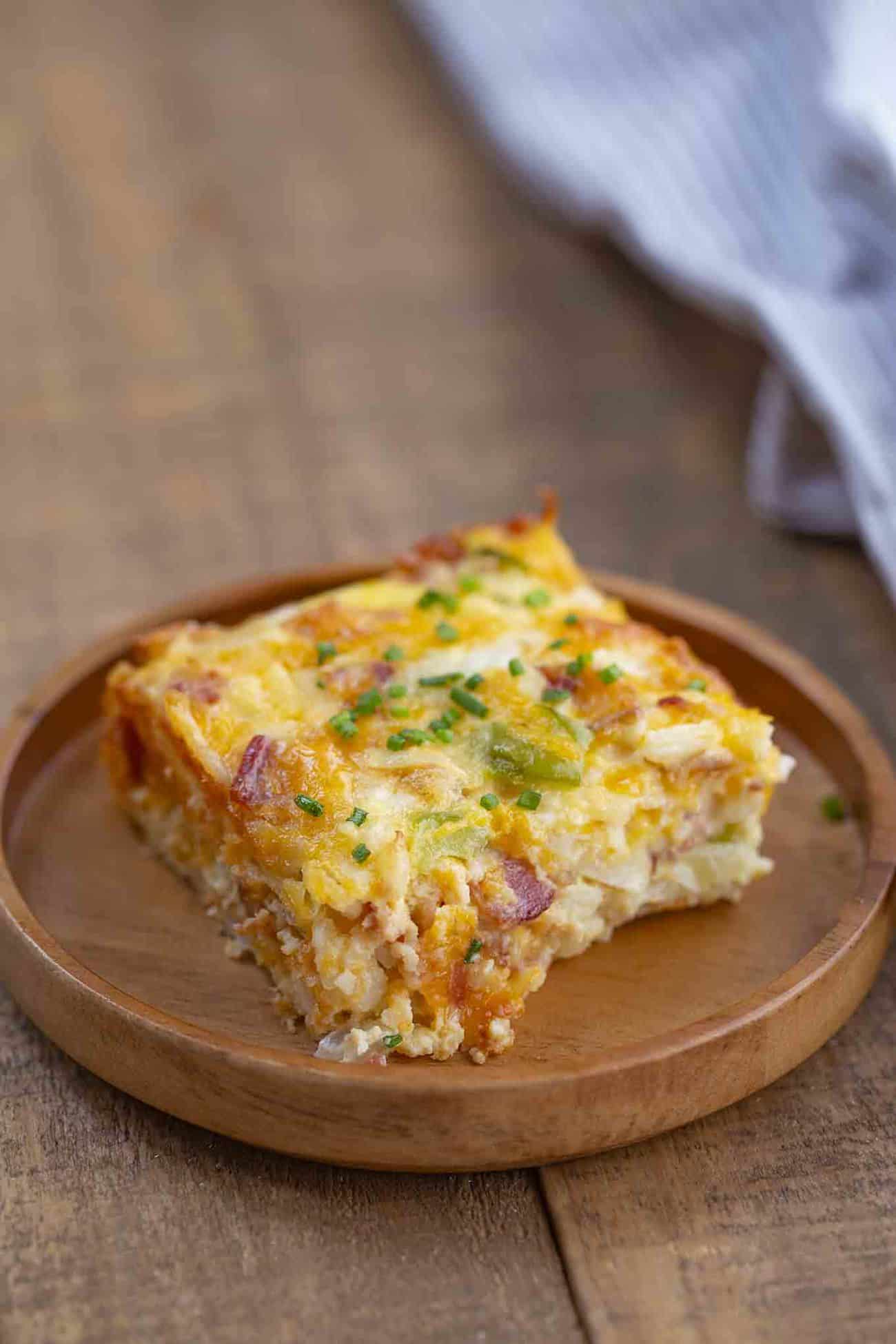 2. Everything Bagel Make Ahead Breakfast Casserole by Home Made Interest
From the website: "You can make this Everything Bagel Breakfast Casserole the night before. You chop up the everything bagels, and layer them with bacon, cream cheese, and Gruyere cheese. Then you pour a mixture of eggs and cream over the casserole and cover it tightly before putting it in the refrigerator."
3. Buttermilk Blueberry Breakfast Cake by Alexandra's Kitchen
From website: "This cake is a long-time family favorite. My mother made it for my siblings and me when we were young, and every time I pull it out of the oven, clichè as it sounds, I am reminded of summer mornings in my childhood kitchen. It's simple, adaptable, and make aheadable."
Buttermilk Blueberry Breakfast Cake from Alexandra's Kitchen on Vimeo.
4. Peanut Butter Banana Baked Oatmeal by Haute & Healthy Living
From the website: "Breakfast doesn't get much easier than this Peanut Butter Banana Baked Oatmeal! Whip up a batch and store it in the fridge or freezer for a quick and easy breakfast throughout the week! Great option for the whole family! {Gluten-free, vegetarian & no-sugar added}"
5. Cheesy Spinach Mini Frittatas by Urban Bliss Life
From the website: "These Cheesy Spinach Mini Frittatas are quite possibly the easiest, tastiest make-ahead brunch recipe!"
6. Deliciously Easy French Toast Casserole by Adventures of Mel
From the website: "How to make a deliciously easy French toast casserole, a make ahead recipe that's perfect for a crowd and makes a quick breakfast on busy mornings."
7. Breakfast Sliders by The Kitchn
From the website: "One of the greatest things you can do for your morning is to prep and assemble a batch of these sliders during weekend meal prep. While these sandwiches are great straight from the oven, they freeze and reheat like a dream."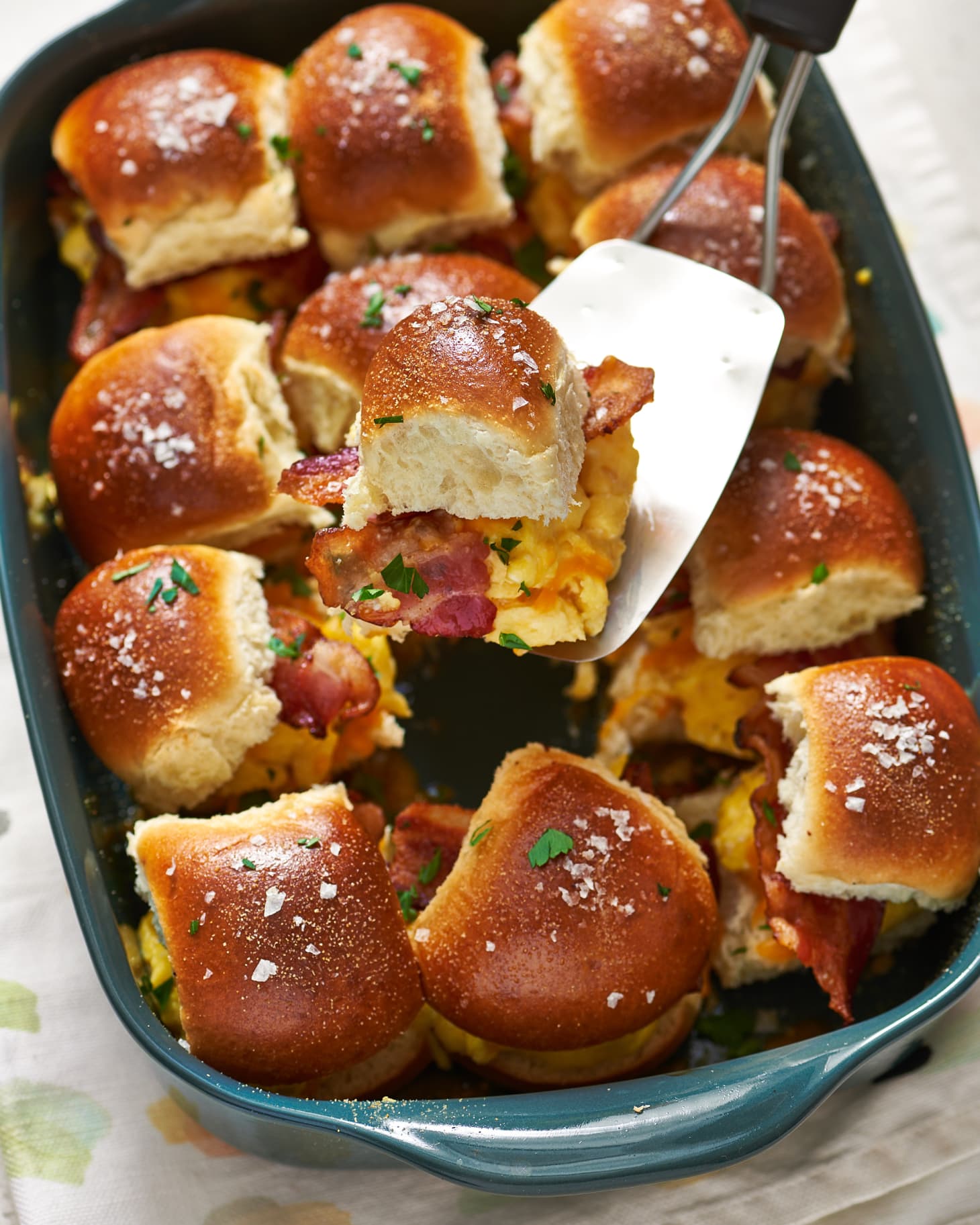 8. Make-Ahead Breakfast Enchiladas
9. Sausage Egg and Cheese Breakfast Bread by The Neighborhood Moms
From the website: "This breakfast bread is so yummy but might be a little hard to pull apart, so you could just slice it. We also used some Cholula hot sauce to liven it up a bit!"
10. Chocolate Croissant Breakfast Bake by Plain Chicken
From the website: "I can not begin to put into words how delicious this Chocolate Croissant Breakfast Bake tasted. It was hands down one of the best sweet breakfast bakes I've ever eaten. Buttery croissants, cream cheese, sugar, and chocolate – how could it not be amazing?!?!?! You must try this ASAP! I promise you will love it."
11. Pancake Sausage Bites by Ginger Casa
From the website: "These little bites of goodness are easy to prepare ahead of time, store in the fridge, warm just what the kids will eat in the morning, and even eat on the way to school.  Eat them with a little maple syrup or a glass or milk…or nothing at all!"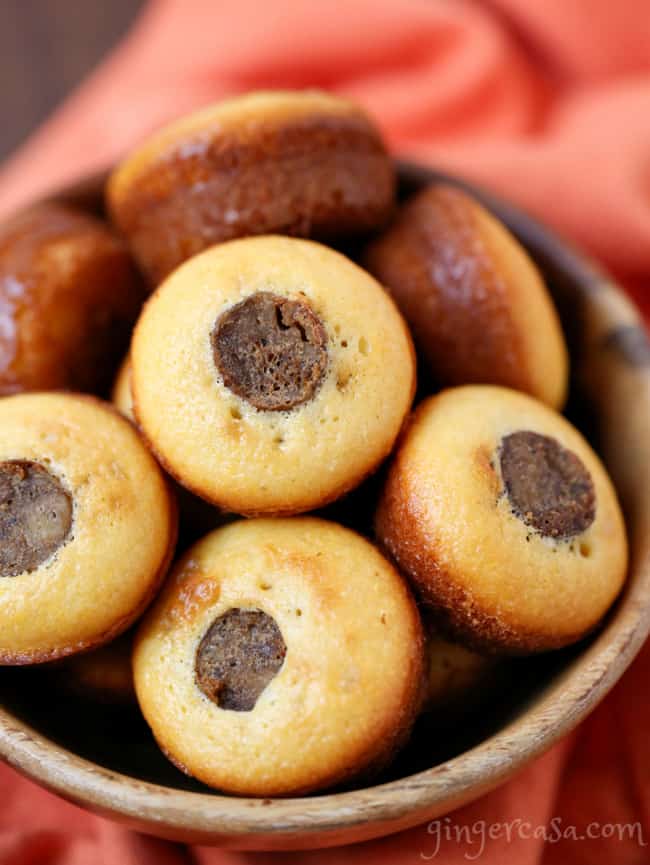 12. Butterscotch Pull Aparts by Oh So Delicioso
From the website: "On Christmas Eve and Easter Eve I like to make these up and let them rise overnight in my bundt pan.  Then in the morning I pop them in the oven and by the time gifts are unwrapped or the eggs have been found, breakfast is ready to go!"
Facebook Comments
comments