It's the hottest days of summer, and that means Blueberry Everything in my part of the country. It's the season of this superfood, and I'm taking full advantage of it by making an easy no-bake cheesecake that's a little bit different from the norm.
While I was considering options for this recipe, I was talking to a fellow baker one day and he was reminiscing about his mother's blueberry crumble pie recipe, and I got to thinking about putting the streusel topping inside cheesecake filling instead of on top of it. The more I thought about it, I wanted to put blueberries and streusel both inside the cheesecake filling. I have to admit, I'm kind of crazy about how it turned out.
My local grocery store was out of blueberries since it was a hot weekend in July, so I made a quick trip to my local blueberry farm and got a great tip for washing berries, straight from the experts. Instead of running water over the berries to clean them, place your berries into a colander and then place the colander into a large bowl full of water. It's gentler on the berries and it's easier to sort them because they all move easily in the water. Then just lift the colander out to drain!
Streusel topping:
½ cup all-purpose flour
1/3 cup granulated sugar
½ stick (4 Tbsp) butter, melted
Crust:
2 cups graham cracker crumbs
6 Tbsp of butter, melted
Pinch of salt
Filling:
2 8-oz blocks of cream cheese, softened
½ cup granulated sugar
Zest of 1 lemon
Fresh blueberries, about 1 cup plus more for topping
Make the streusel topping: combine all the ingredients in a bowl and mix together.  Put it in the freezer while everything else comes together. Cooling down the streusel will keep any warm butter from oozing into our beautiful cheesecake filling.
Make the crust: Start by crushing up your graham crackers in a plastic bag. I used to have a food processor, but I moved 2 years ago and I haven't found it yet, so I just do this instead. I honestly prefer it because if you have any pent-up frustrations or anger about anything you can take it out on the bag of graham crackers. You can use a rolling pin or a can of beans or YOUR BARE HANDS to pulverize them, it's your choice.
Pour the crumbs into a bowl, add the melted butter and salt and mix to combine. Press evenly and firmly into the bottom of an 8 x 8 pan and bake at 350 for 8-10 minutes. Let it cool while you assemble the filling. If you want to make it a real no-bake recipe you can just skip the oven altogether, but I prefer baking the crust because it holds together better once you slice the finished cheesecake.
Make the filling: Mix the cream cheese for 2 or 3 minutes so that it gets nice and smooth, then add in the granulated sugar and mix for another 2 minutes. Scrape down the bowl periodically. Fold in the lemon zest and berries. Yep, we are folding. Don't be afraid.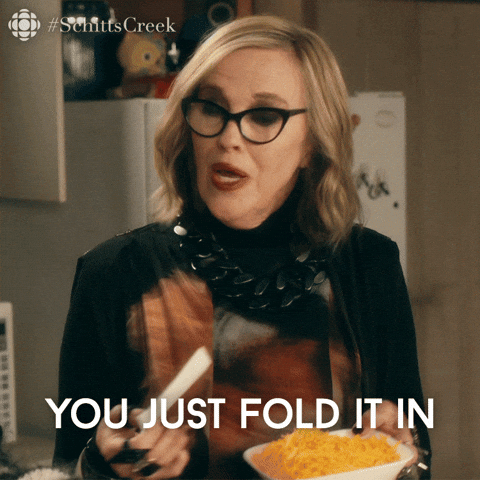 Take the streusel out of the freezer and break it up with a fork so there are no big chunks (but little chunks are good), and fold that into the cheesecake mixture. Spread it into the pan and make sure gets into all the corners.
Now, in my opinion this is a great cheesecake just as it is, but I took a piece to my mother, who said that it needed more blueberries. Lots more.  So, as always, mom gets what she wants.  I decorated the top with as many fresh blueberries as I could fit on it.  There are approximately eleventy thousand berries on this cheesecake. Chill the finished cheesecake in the fridge for at least a couple of hours and then enjoy!
Facebook Comments
comments