Rx: "When We Were Vikings"
Prescribed by: Andrew David MacDonald
Prescribed for: Fans of  the movie "The Peanut Butter Falcon," and the novel "The Silver Linings Playbook."
Side Effects: Sore cheeks from smiling so much and chest pains from your heart expanding.
Directions:  The world may see Zelda as "developmentally disabled," but she sees herself as a force to be reckoned with and worthy of the title "Viking hero."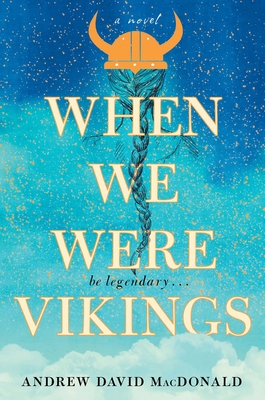 Zelda's parents are gone and her mother's drinking during pregnancy is the reason that Zelda is on the fetal alcohol spectrum.  She lives with her older brother, Gert, and loves her days spent at the community center and the library.  Zelda finds comfort and structure in rules and lists and longs to be heroic like the Vikings she has read about extensively.  Zelda doesn't need anyone to save her; she's going to save herself, her brother, and her boyfriend, and become a legendary Viking warrior in the process. Although the path isn't always clear, Zelda's determination, humor, and firm belief in herself guide her quest.  This novel will have you laughing one moment, and crying the next and will surely be your favorite book of 2020!
Special Instructions: You will not want to put this book down, so be prepared!  This winter slow cooker soup is quick to throw together and will simmer away on its own while you are reading.  And this delicious mocktail will insure that you don't miss a nuance of the bliss that is this novel.
Slow Cooker Pasta e Fagioli Soup by The Café Sucre Farine
From the website: "A classic Italian soup, this delicious Slow Cooker Pasta e Fagioli Soup takes about 45 minutes to prep, then the slow cooker does the magic!"
Mulled Wine (Non-Alcoholic) by The Mother Cooker
Refill: https://www.indiebound.org/book/9781982126766
Facebook Comments
comments