Rx: "You Are Not Alone"
Prescribed by: Greer Hendricks & Sarah Pekkanen
Prescribed for: Fans of movies like "Thoroughbreds" and "Heavenly Creatures" and novels of twisted revenge like Gillian Flynn's, "Gone Girl."
Side Effects: Lightheadedness from all of the twists and turns in the plot.
Directions: Shay Miller is a market researcher, truly a statistician at heart; she finds comfort in numbers and probabilities. While a bit socially awkward, she is hopeful that a new job and new experiences will turn her life around. Enter the Moore sisters, two fashionable, well-connected, outgoing women whose interest in Shay goes well beyond friendship. They invite Shay into their inner circle, a women's group less about support and more about getting even.
When Shay witnesses a woman leap in front of a moving train, she finds herself drawn into the dead woman's world, her job, her neighborhood, and her life. Shay's obsession with finding out why Amanda jumped, results in more questions than answers, and brings her to the attention of Amanda's circle of woman friends. Shay has few friends herself and is desperate to be stylish, popular, and desirable, like Amanda seemed to be. Shay should have been more careful about what she wished for. The Moore sisters seem too good to be true, helping Shay with her clothes, a new hairstyle, finding a new place to live, etc. As Shay becomes more entwined with the sisters, however, it becomes apparent that their plans for Shay have nothing to do with friendship and everything to do with protecting themselves and the world they've carefully built, one fueled by revenge.
Special Instructions: Some say revenge is a dish best served cold, so this salad should do the trick. And for those who feel that revenge is bitter-sweet, how about this not-so-subtle pink cocktail?
Black Bean Quinoa Salad by Bargain Briana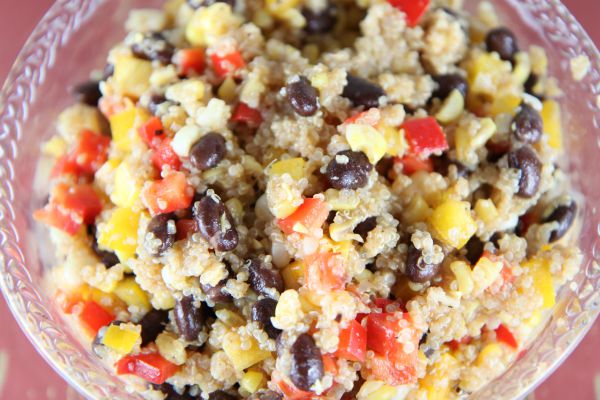 From the website: This recipe is good cold or hot. Either way is absolutely delicious! I've also substituted red and yellow bell peppers for the green bell peppers.
Barbie's Revenge Shot by Tipsy Bartender
From the website: This simple little shooter combines purple Viniq, rum, and Sweet Revenge for a drink just as beautiful as your dream playhouse.
Refill: https://www.indiebound.org/book/9781250202031
Facebook Comments
comments