Here at Sweatpants & Coffee, we pride ourselves in being up to date on the latest coffee trends and happenings in the coffee world. Here's a roundup of the coffee news we've been reading this month.
A new study suggests that coffee intake depends on your DNA. "How many cups of coffee do you drink a day? According to a new study, the answer might depend on your DNA. Researchers suggest people with a DNA variation in the gene PDSS2 drink fewer cups of coffee than those without this variation."
Instant coffee is getting a makeover. "San Francisco-based Sudden Coffee is giving instant coffee a much-needed makeover, doing so by taking beans from popular coffee roasters like 49th Parallel, Ritual Coffee Roasters and Saint Frank Coffee. Sudden Coffee dehydrates the coffee beans into a powder for later consumption, and the final product can be mixed with hot or cold water."
Do you know how instant is made? "There are two ways to make instant coffee: spray drying and freeze drying. Spray drying is achieved by spraying liquid coffee concentrate as a fine mist into very hot, dry air (we're talking about 480 degrees F). When the coffee hits the ground, the water has been evaporated and it has dried into small, round crystals."
Coffee 101 Five different ways to make your own coffee!
Brew your coffee on the go with this ingenious travel mug. "Mojoe is just like your coffee maker at home, except we've engineered a way to cram it inside of a travel mug," said Joseph Hyman, co-founder of Mojoe Brewing Company."
Americans prefer cheap coffee. "A full 67 percent of testers liked the cheap stuff better. When Rossen blind tested Savannah Guthrie, Matt Lauer, and Al Roker, all three of them preferred the cheap coffee."
Let physics help you stop spilling your precious coffee! "Most people hold their coffee either by using the handle (so obvious!) or by gripping the body of the cup. To cut down on spillage, Han recommends carrying coffee cups from the top, instead, using what he calls the "the claw method." Using this grip will shrink "the magnitude of acceleration" as we move; i.e., holding your coffee cup from the top will cause you to swing your coffee much more gently and spill less."
Uses for used coffee grinds.  "Americans sure do love their coffee! Studies show that the average person drinks approximately 3 cups of coffee per day — that's a whopping 587 million cups being consumed across the country on a daily basis. Besides the obvious caffeine boosting properties and health benefits, coffee grounds are also quite useful and practical when used around the house."
Coffee can cure your heart. "The study tracked 3,721 heart-attack survivors in the United Kingdom and analyzed their habits—and it turned out to be good news for coffee-drinkers. Patients analyzed in the study who drank one or two cups a day were 20 percent less likely to prematurely die from heart damage than patients who drank none at all."
Judge dismisses Starbucks ice coffee lawsuit. "The California lawsuit, filed on behalf of plaintiff Alexander Forouzesh in a federal district court, argued that Starbucks misled customers about the size of its iced drinks because it lists their sizes as the total liquid volume of drink and ice, not just the beverage itself. In dismissing the case last week, U.S. District Judge Percy Anderson said that a "reasonable consumer" would know that the stated ounces for an iced drink, well, contain ice."
The Superbowl helped turn our friends at Death Wish Coffee into a household name. "Sure, the brand had a small cult following before, but the ad elevated it to a whole new level. Web traffic skyrocketed to 12,000 visitors a day, double what it had before. Not surprisingly, sales followed. "We were in seven stores before the win and now we're in 150," said Brown. "Last year, we had $6 million in sales, and now we're already at $10 million. We think we can cross $15 million by the end of the year."
A green coffee alternative. "Matcha is green tea leaves crushed into a fine, electric green powder. Whisk the powder into warm or hot water, and it dissolves into a frothy drink."
Celebrity Coffee Sightings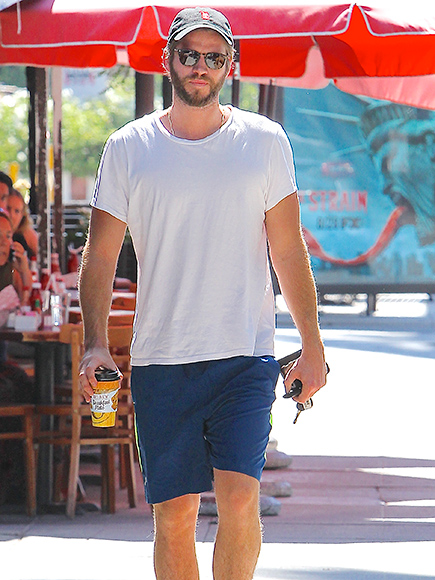 Liam Hemsworth grabs coffee while out on the town.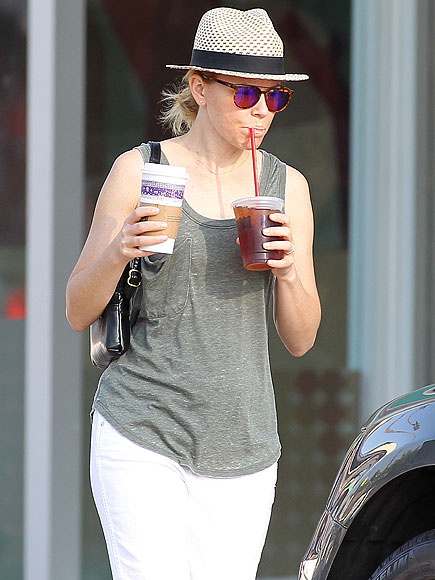 Elizabeth Banks juggles coffee in both hands.
Facebook Comments
comments