Created in 2006, National Puppy Day celebrates the special role of puppies in our lives. Celebrated annually in the United States on March 23rd, this day has become an opportunity as well to bring to light the deplorable conditions in puppy mills and encourage prospective dog owners to seek out their next pup from reputable rescue organizations and breeders alike.  With over 2 million puppies coming out of puppy mills annually, and many more dying in those mills under heartbreaking conditions, awareness is truly the key.
So, let's celebrate!  Grab your puppy and let's get him off to a great start. What follows is advice I have given out hundreds of times over the years as a Certified Animal Behaviorist.  It certainly isn't all inclusive, but it does give you an idea of where to begin with your puppy.
"There is no psychiatrist in the world like a puppy licking your face." – Bernard Williams
All puppies should be socialized to both people and other dogs.  Socialization to people should occur immediately at birth with puppies feeling the vibrations of human voices and movement, even before their eyes and ears open.  They should hear music, environmental noises such as rain, honking cars, and raised voices.  They should hear clapping, laughter, and maybe even some thunder if that is a common occurrence where you live.  Puppies can be exposed to these noises beginning at a low level and eventually bringing it up to where a puppy simply views it as background noise.  White noise machines, for example, are wonderful for exposing puppies to environmental noises such as rain, waterfalls, woodland animals, thunder, etc. Even if you don't know what kind of socialization your puppy has had before you adopt him, you can begin noise desensitization as soon as you bring them home.
Puppies need to be exposed to lots of different kinds of people.  Having a lot of well-behaved visitors is the key.  Older folks who use walkers or wheelchairs can be brought in and made comfortable while the puppies explore the floor around the medical device.  Children can be brought in to pet, hold, and gently interact with the puppies.  This will help the puppy to become familiar with smaller hands, quicker movements, and joyful laughter! Just make sure your visitors take off their shoes, wash their hands, and are careful in holding the puppies on their laps or close to their bodies to insure that the puppies feel safe and secure.  Exposure to children should happen several times during a puppy's development to insure that they aren't fearful or reactive with kids. Even if you don't have children of your own, your pup is sure to meet them in the real world, so helping them to understand kids sooner rather than later is a must.
Exposure to other dogs will, obviously, happen from birth for most puppies as well in so much as the puppies are exposed to one another and their mother. However, you will also want to expose your puppies to other dogs, both big and small.  Just make sure these adult dogs are friendly and well-socialized. Socialization to other dogs does have a critical period which is from 3-12 weeks.  This is why you want to take puppy classes as soon as you bring your new puppies home.
In general, puppies should be adopted between 9-11 weeks of age.  While it may be safe for some puppies to go to their new homes as early as 8 weeks of age, it is generally better to give them an extra week or two to hone their social skills.  They are weaned, active, and ready to engage as their focus moves away from mom and more to their environment and their peers. For many smaller dog breeds, waiting until the puppies are 12-14 weeks of age may be preferable since that way they will be a bit bigger and less fragile when they move to their new home.
Puppy classes should be mixed, meaning all breeds of puppy are welcome in the same class.  The puppies should be close in age.  Most beginner puppy classes are designed for puppies 7-16 weeks of age and thus primed for socializing with their peers.  You are also likely to find nice classes available for puppies over 4 months of age who are ready for more intensive learning.  Beginner puppy classes should combine play time with handling exercises designed to make puppies comfortable with humans taking charge of their ears, feet, bellies, and tails.  The classes should cover the basics such as sit, down, stay, etc. while addressing common behavioral issues such as house training, biting, how to use a crate effectively, and walking nicely on a leash.
Puppies are a joy, and a lot of responsibility.  There are great resources out there that can make taking that wiggly bundle of enthusiasm home with you more attainable.  Here are a couple of books that I love to recommend for prospective and new puppy owners:
"Before You Get Your Puppy," by Ian Dunbar, DVM.  Dr. Dunbar is considered a world expert on dog behavior and a pioneer in the field of dog development.  This is a quick read, full of helpful information to guide you as you choose your puppy and bring it home.
"Choosing and Raising a Puppy: How Hard Could It Be?" by Trish Wamsat is a wonderful book for new and seasoned puppy owners alike. I had the pleasure of being an early reviewer on this book and it is terrific.  The author will help you relax and enjoy your puppy, while making learning fun.
Treat your puppy today with this delicious puppy-friendly Homemade Dog Cake from The Cozy Cook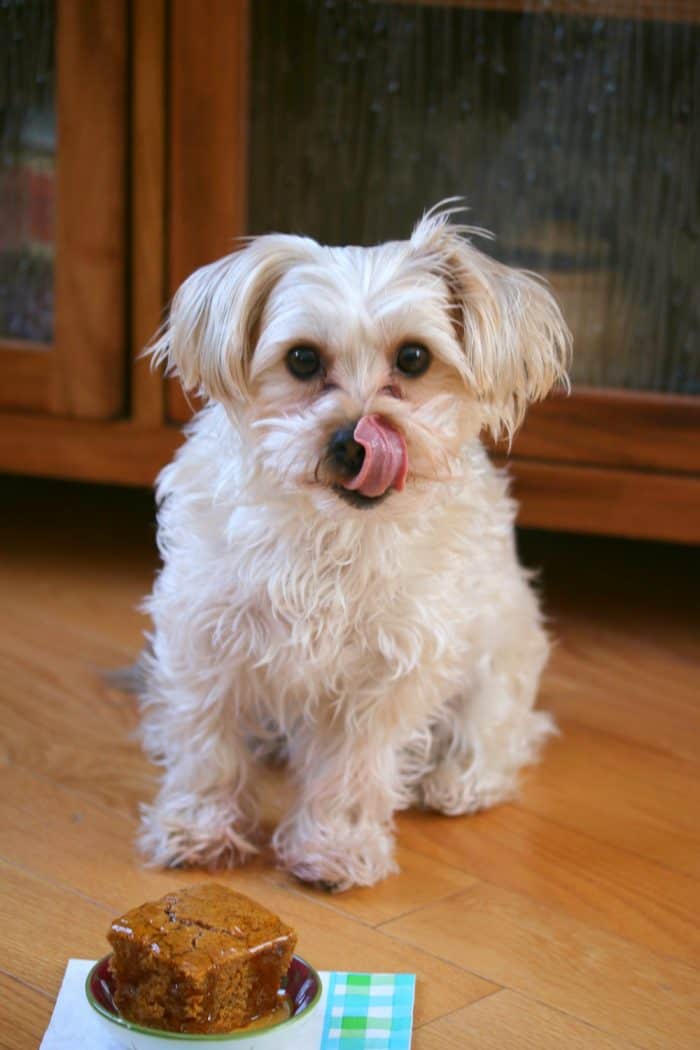 Julie Bond earned a Bachelor's Degree in Biological Psychology and a Master's Degree in Animal Behavior from the University of California at Davis. Learn more about Julie's work with animals at http://www.juliebondanimalbehaviorist.com and see Ozzie all grown up with Julie's other dog Desi on Facebook.
Facebook Comments
comments