Italian film director Federico Fellini once said, "Life is a combination of magic and pasta." Now, there's a quote that I'd consider making my life motto! With that being said, tortellini, made of delicious ooey gooey cheese enveloped in pasta, is one of life's greatest pleasures; it's always a good time for tortellini. This roundup includes recipes for everything from tortellini salad to tortellini skewers. Bon appetit!
1. Warm Balsamic Chicken Tortellini Salad from Yellowblissroad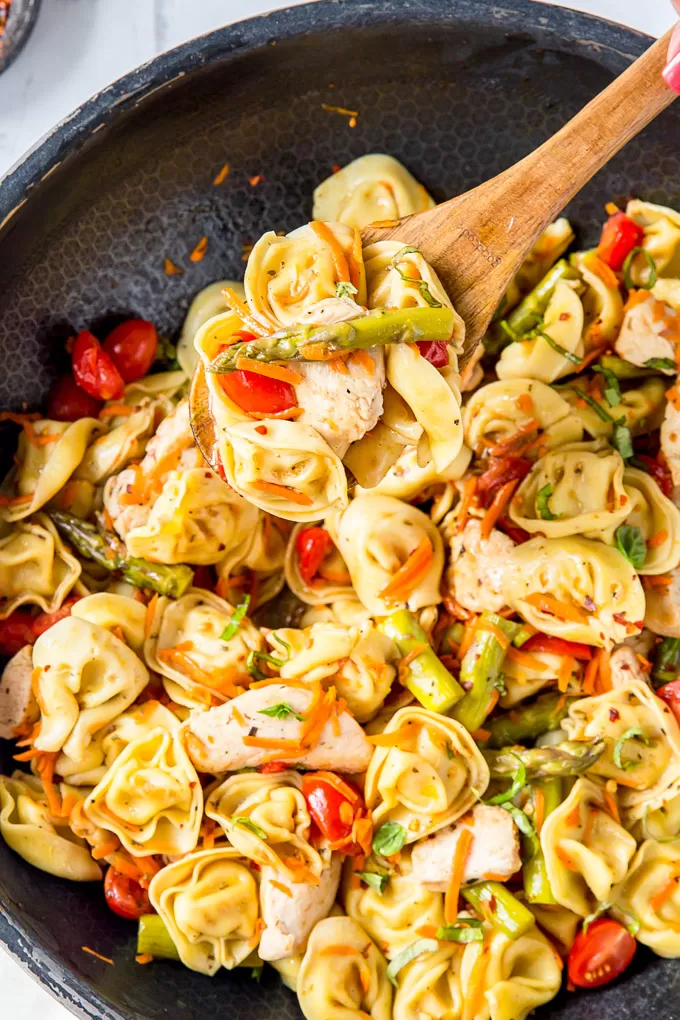 From the website: I truly believe that healthy eating is a lifestyle. You can't maintain a lifestyle that you don't enjoy… So make a dinner packed with veggies that your whole family will love. The veggies covered in the sweet balsamic sauce are scrumptious and I absolutely love the flavor of balsamic vinegar. It's a perfect combination of sweet and tangy. Plus, this recipe is an entire meal in itself, serves 6 people and comes in at under 500 calories per serving!
2. Creamy Sausage Tortellini Soup from Life Made Simple
From the website: It's creamy without being heavy, full of veggies, and loaded with pillowy cheese tortellini. It's hard not to love this delicious soup. 
3. Parmesan Crusted Tortellini Bites from The Cozy Cook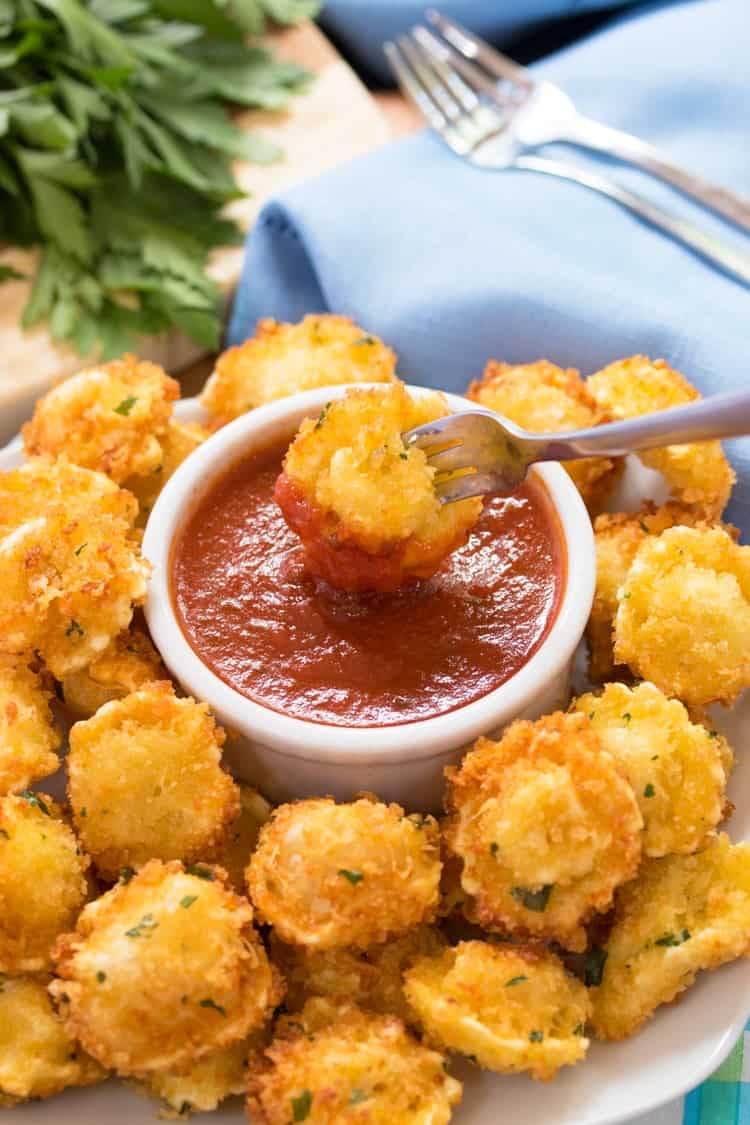 From the website: This fried tortellini is definitely one of my favorite appetizers to date. (And the quickest to disappear at a party, might I add.)
4. Italian Tortellini Skewers with Pesto Drizzle from Our Best Bites
From the website: These Italian Tortellini Skewers with Pesto Drizzle are fantastic as the centerpiece of a finger food dinner or a summer appetizer platter. Even my olive-hating kids loved them combined with tortellini, fresh mozzarella, pepperoni, tomatoes, and drizzled with a combination of pesto and Italian dressing. 
5. Dump-and-bake Tortellini Casserole from Always Use Butter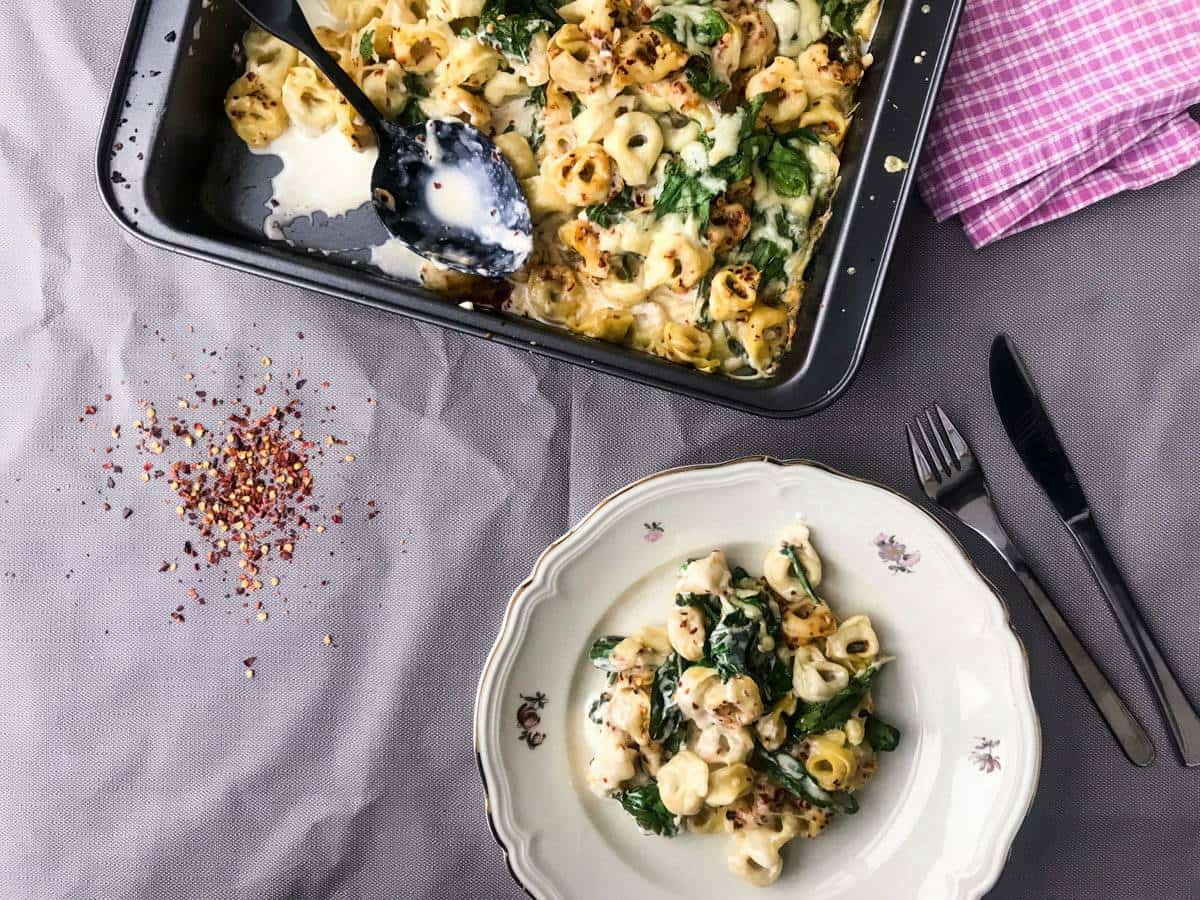 From the website: This easy Baked Tortellini Casserole is quick & mainly cooks itself, with very little prep. It's one of the best weeknight dinners, for those nights when you feel a little indulgent but just can't be bothered. And as an added bonus it's really easy to make vegetarian – just go for cheese filled tortellini instead.
6. Cheesy Skillet Shrimp and Tortellini from Carrie's Experimental Kitchen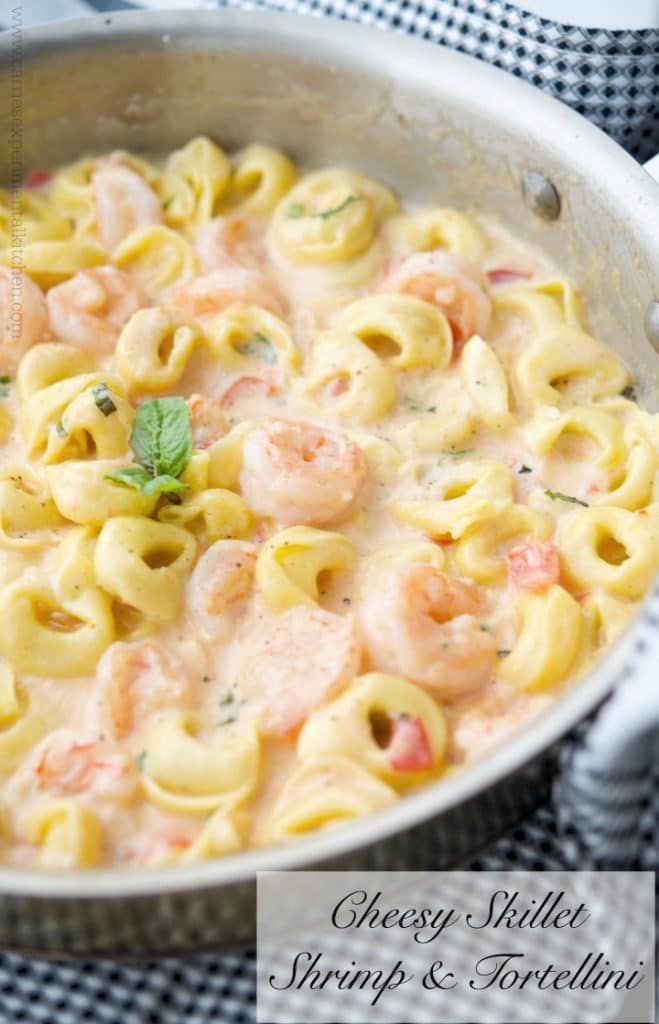 From the website: It's not the healthiest meal which is why I don't make it very often, but everything in moderation, right? I made it even easier by cooking it all in one skillet. Less mess and cleanup is ALWAYS a good thing!
7. Tortellini Mac and Cheese from Confessions of a Confectionista
From the website: This stuff is seriously so marvelous that I don't even want to waste another second explaining how marvelous it is, I just want you to make it! I mean, I'm sure you guys have probably had mac and cheese before so maybe you're not totally as excited but no, BE EXCITED. Trust me, be excited. There is just so much to be excited for.
Facebook Comments
comments