Whether you view Halloween as a time to flex your makeup skills, a time to scare the pants off everyone, or merely a fun day with family and friends, there's something about the perfect lipstick, scent, or other beauty product that fits the mood that makes it that much more special. Below I'm listing some different brands that have some truly terrible – er, wonderful – products for your perfect Halloween vibe.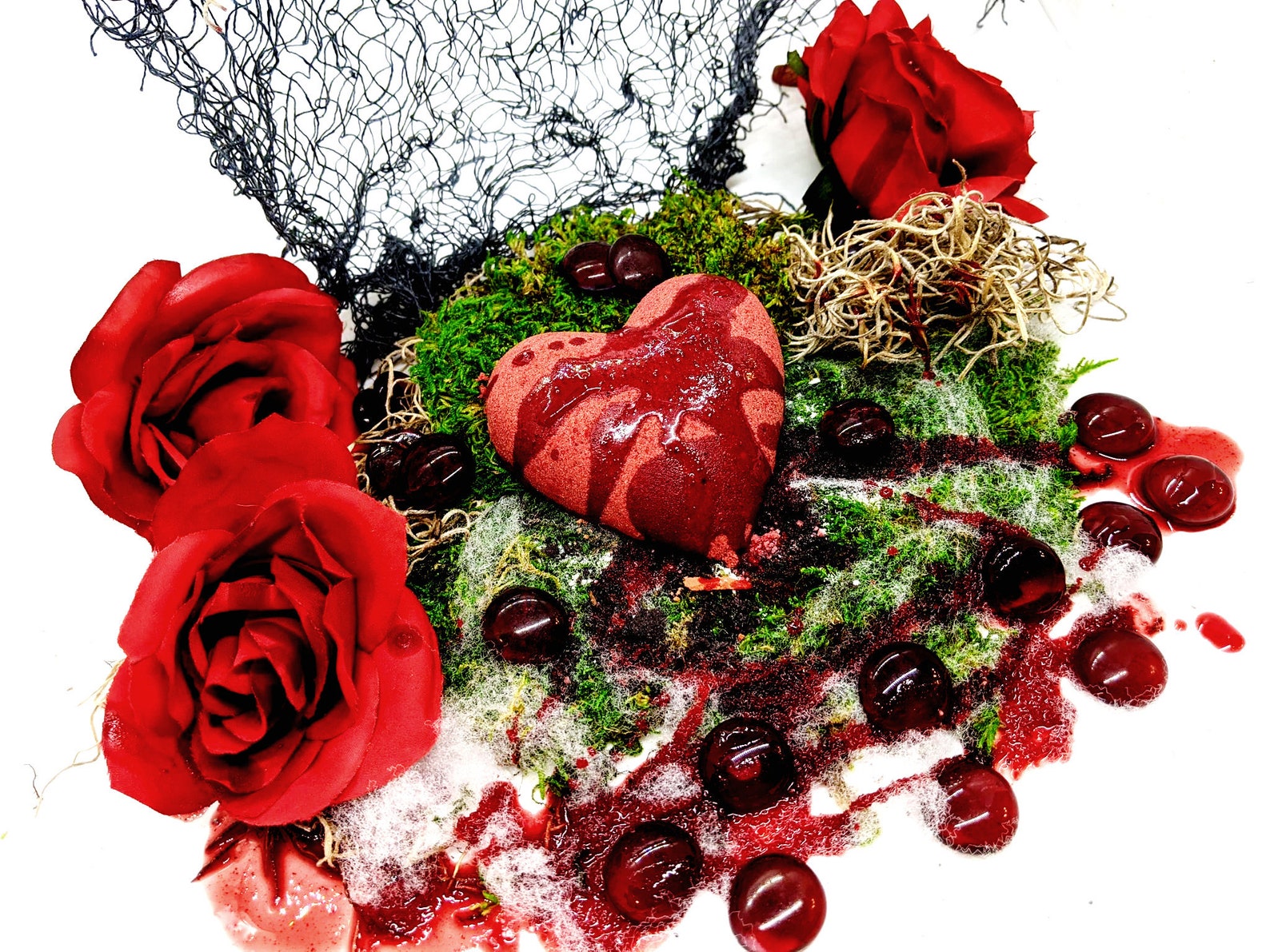 Apothic Creations: I have four terrifying, beautiful words for you – Countess Bathory Bath Bomb. With notes of sandalwood, dark chocolate, blackberries, gardenia, and red wine, Apothic Creations' heart shaped bomb is a recipe for a deliciously good time (no mass murder included).
Bloodbath: You may be feeling like a zombie between pandemic insanity and being a zombie for Halloween, but you can still be a pretty zombie, damnit! Get some of Bloodbath's awesome formulas in kitschy packaging and you'll be thrilled. Personally? I want some of their Argan Oil Hair Shine Perfume Serum in Wicked and the hilariously named Dead Flesh Removing Sugar Scrub in Hallows Eve.
Forget Me Not Bathery: For those wishing to commune with sleep inducing spirits while also getting rid of any negative energy, the Organic Halloween Gift Box from Forget Me Not Bathery, pictured at the top of this post, is perfection. Bath salts meant to induce sleep, a coffin shaped bath bomb scented with rose and rosemary, and a room spray with sage and cedar all in one delightful box – perfect to give to your friend or yourself.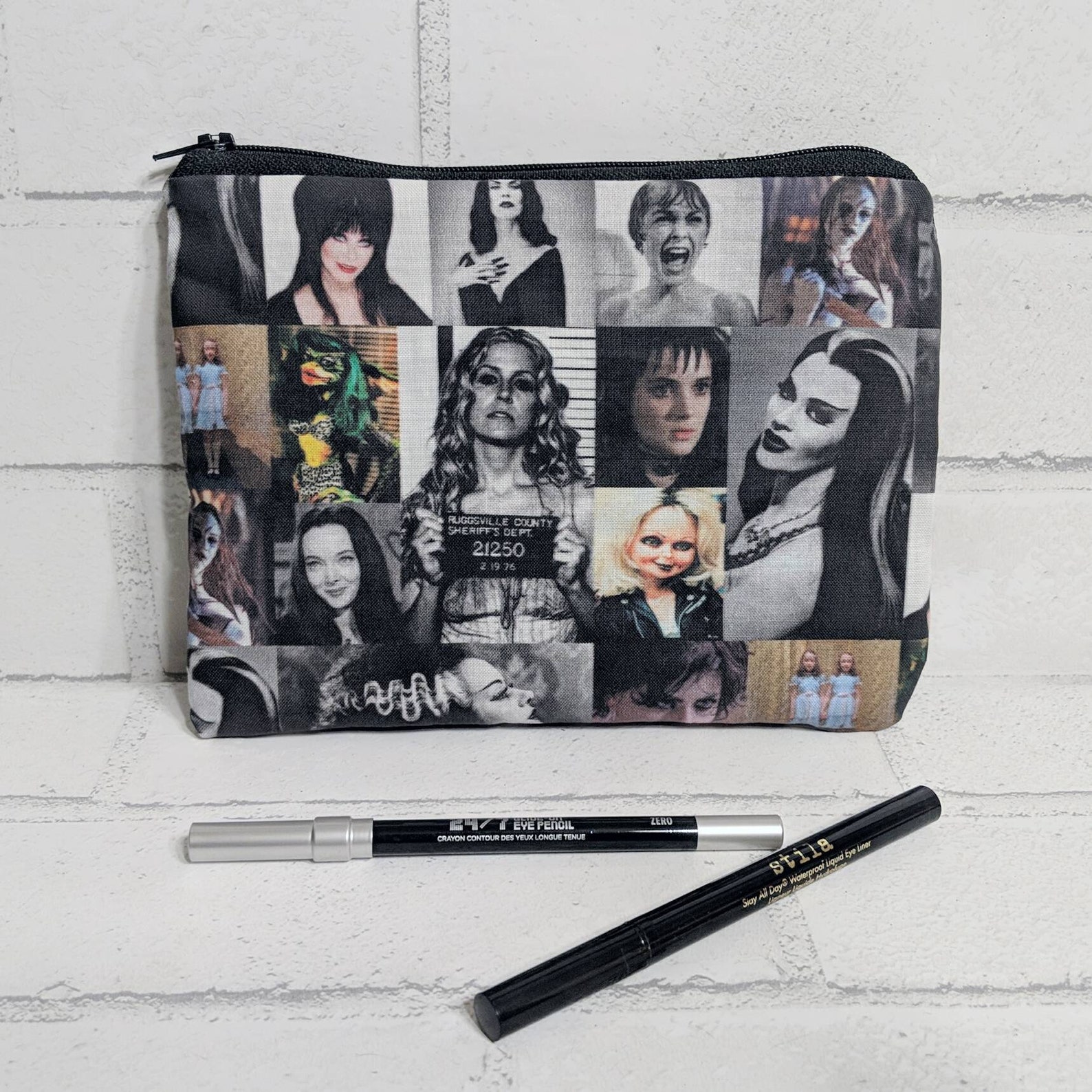 Gorejess Laboratory: In need of a new cosmetics bag for the ingredients to your ritual – er, I mean your makeup? Look no further than Gorejess Labroatory's variety of makeup bags (personal favorite has to be the Ladies of Horror). They hold up well and have hundreds of five star reviews. Pick up a new compact mirror while you're at it. I vote for the Death Becomes Her compact, because having a screaming Goldie Hawn with a hole in her torso on your mirror is *chef's kiss*.
Kush Queen: If there's something on this list that I want most, it's Kush Queen's The Swamp Queen Collection. Included are two Spirit of the Bayou Elixirs and one Spirit of the Bayou Bath Bomb. The kit advises you drink one of the CBD elixirs (which have a delicious blackberry lemonade flavor), then use the CBD infused green & black bath bomb (which smells like fresh rain and petrichor, pretty much my favorite scents EVER) to reach an entirely new state of relaxation. And after dealing with trick or treaters, late night celebrations, and kids having way more sugar than normal? Yeah, that's gonna be needed BIG TIME.
Lunatick Cosmetics Labs: In the mood for your contour to slay? Not only is Lunatick known for their horror themed packaging, but they have a WIDE variety of shades for even the lightest, darkest, warmest, and coolest skin tones. The Pro Contour Books contain a wide variety of shades for every day and your spookiest looks with Vol 1 for lighter skin tones and Vol 2 for deeper tones.
Lush: Lush is known for their seasonal bath treats, and Halloween 2021 is bringing some awesome options. Try the Alien Bubble Bar for a delightfully citrusy, neon green, frothy bath to pump you up for all the trick or treaters about to head your way, or ease your body after a night of celebrations with the Ceridwen's Cauldron bath melt – a muslin-wrapped package of lavender, sandalwood, oats, cocoa butter, and walnut oil that will soften your skin and quiet your mind.
Madame Scodioli: Want to smell like you just left a magic ritual? Look at Widdershins Scented Balm. Frankincense, myrrh, and musk come together in a delightfully earthy combination that will intrigue and entice. Fragrance balms tend to last longer on the skin since it keeps the fragrance "glued" to your skin with hydration. You can also warm up some of the balm in your hands and rake it through your hair for added scent.
Morimomentos: If you're like me, you need multiple cosmetics bags when you travel. Hair, makeup, morning skincare and evening skincare all require different bags because…well, I'm extra about my cosmetics. Sorry, not sorry. Have all your toiletry bags be connected in a coordinating pattern, and what better pattern for a haunted getaway then the Overlook Hotel's iconic carpet? Just watch out for twins in the hallway and redrum written on the walls.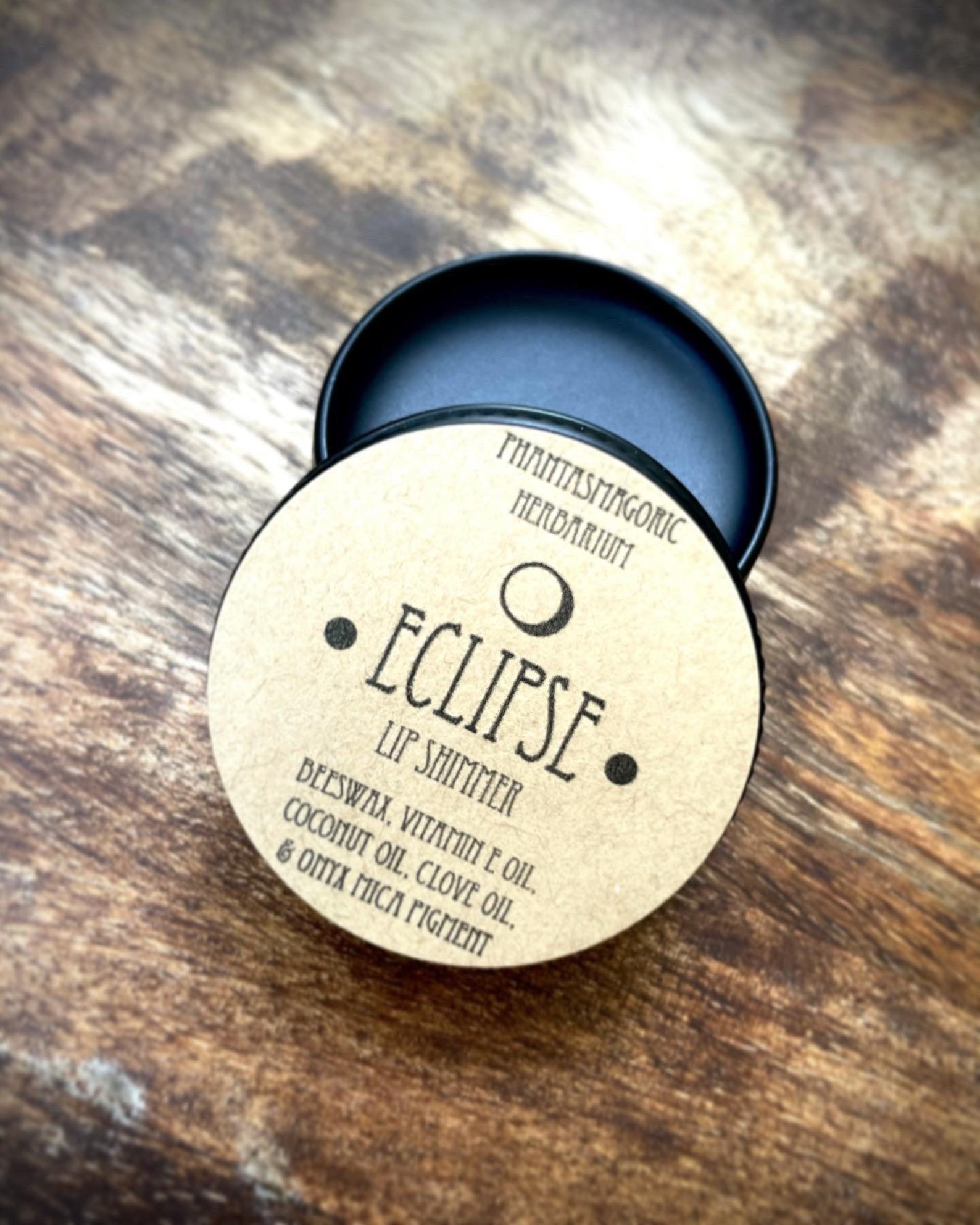 Phantasma Herbarium: A delightfully spooky lip balm with a hint of clove and a dark, shimmery color? This store has a delightful tub of the stuff – the Eclipse Lip Shimmer. They have several other colors if a black sheer lip balm isn't quite your style, but the tub looks like something that belongs in a witch's cosmetics bag. You can use this has a topper over other lipsticks for some dimension or by itself for a hint of color (or void, for that matter).
Rituel de Fille: Looking for a blood red lipstick? Look no further than Rituel de Fille, because they not only have one blood red option – they have several. Start with the scarlet red Thorn Oil Moisturizing Face Priming Elixir, which contains a host of deliciously good for you ingredients like marula oil, rosehip oil, rose oil, red radish root and purple sweet potato, to get a lit from within glow on makeup free days or a perfectly smooth canvas for below your favorite creepy makeup look. Flush your cheeks and eyes with the Inner Glow Crème Pigment in Nymph, a translucent blood red. Then have your pick of lipsticks: Swarm (sheer blood red), Written in Blood (rich blood red), and Ravenous (dried blood red). And those descriptors aren't just for color – they actually researched the color of blood and how blood looks on the lips to create universally flattering shades of red. Gory but brilliant, and it works. You can get them all and use them as a gradient, or have different options for different days. Honestly, if I had the money to, I would buy all of these right now. I'm also known to be a sucker for red lipstick, so take that how you will.
Sucreabeille: A beloved indie perfume house, Sucreabeille is known for their creative and thought provoking fragrances that often contain notes you wouldn't expect. They have two collections out that are perfect for this time of year – of course an eponymous Halloween collection, and a hilariously themed Fallpocalypse collection. Most of their scents also accompany a short story as well, which I find endearing and very entertaining. One from each collection have caught my attention: Rictus (notes are described as "a funeral wreath of white lilies and black orchids sprinkled with a dusting of graveyard dirt. A sober wake feast of dark chocolate drenched raspberries and a shot of dark rum") and Blood Orange ("Blood oranges soaked in rich spices with a tinge of metallic blood").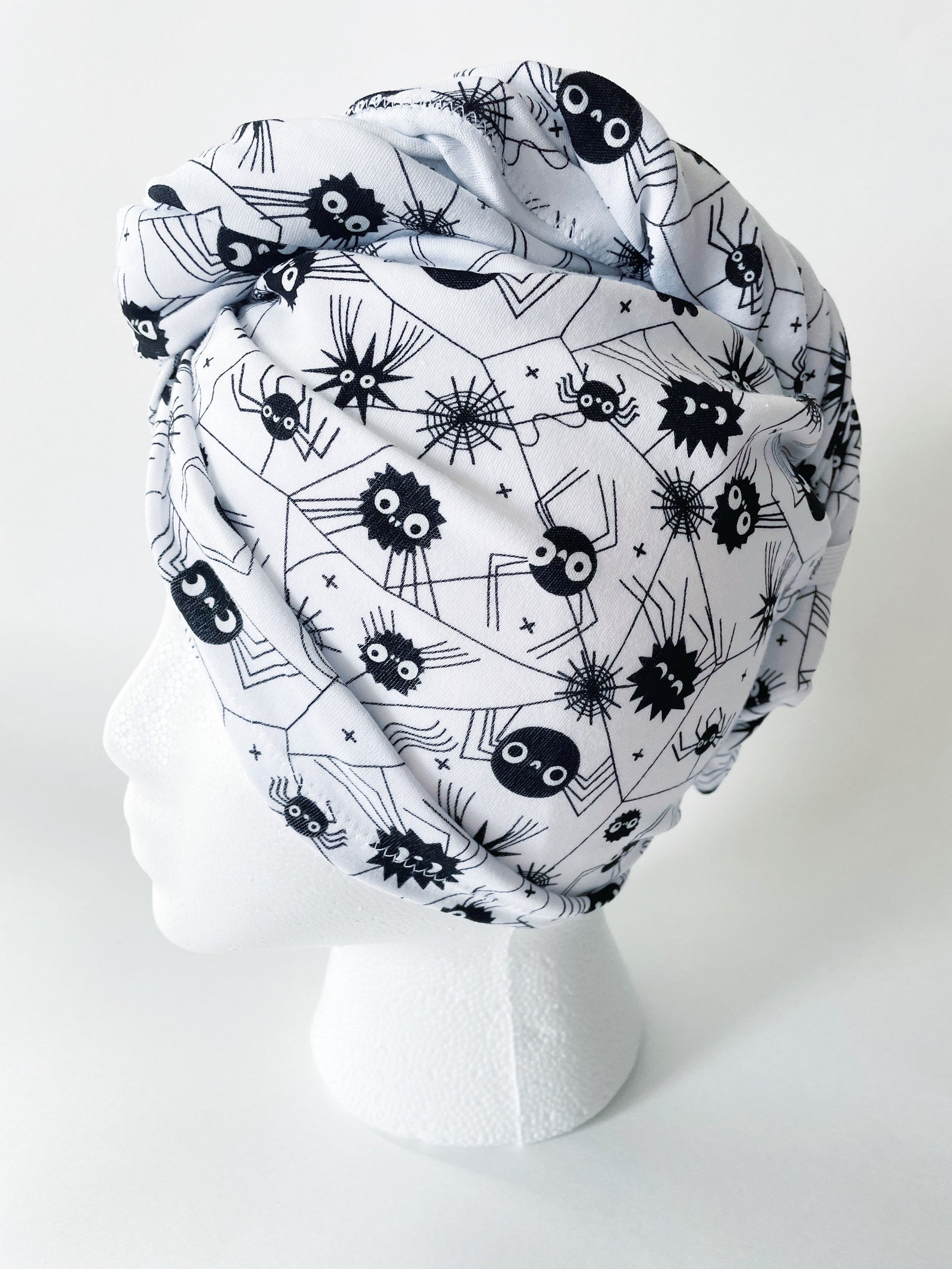 Travel Wildheart: When you've washed your hair and want to get it drying a bit before throwing a blowdryer or diffuser at it, a turban made of microfiber or a cotton shirt is the way to go. Personally, I like having a couple at my disposal to make sure I always have one that's completely dry, so get this adorable one with glow in the dark spiders and this one with moons and stars for a more moody feel (or two of the moon & stars one if you have color treated hair because color bleeding on to your towels is a thing).
Time to fill your cart to prep yourself for a beautiful Halloween! And remember to take off your ghoulish makeup before going to bed, no matter how tired you are. Your skin and sheets will thank you!
Facebook Comments
comments