Hot dogs are one of the most common and universal food items in America.  Think of a sporting event, picnic, holiday barbecue, or kid's birthday party, among other things, and hot dogs will come immediately to mind.  Yet this is a relatively new food item in its current form. They have been thought of as special treats for rare events, extremely cheap and unhealthy food for the very poor, a World's Fair Curiosity, and finally a rehabilitated and standardized part of Americana memorialized in songs, books, and the palates of most of the country.
Hot dogs come in many varieties, evolving from sausages made all over Europe.  The word "frankfurter" comes from Frankfurt, Germany, and began as pork sausages similar in design to current to hot dogs. Known as "Frankfurter Würstchen," they have been around since since the 13th century. They were given as celebratory gifts to the people during the coronations of Holy Roman Emperors. They were just the sausage itself, like the later "Wiener," which were from Vienna, Austria, and made of a mixture of pork and beef. Johann Georg Lahner, a butcher from Germany, is said to have brought the Frankfurter Würstchen to Vienna, and made them with both pork and beef.
The next important change came when a German immigrant named Anton Ludwig Feuchtwanger, who had sold hot dogs from a cart on the streets of St. Louis, Missouri, and had been losing money because he also provided gloves to the customers so they could eat the sausages without burning their hands. The problem was that the customers were supposed to return the gloves to him, but they rarely did. According to one account Feuchtwanger's wife suggested serving the sausages in a roll instead. He is said to have begun selling them that way at the 1893 World's Columbian Exposition, in Chicago.
The term dog has been used as a synonym for sausage since the early 1800s, some say because of accusations that sausage makers used dog meat in their sausages. In Germany the consumption of dog meat was common in Saxony, Silesia, Anhalt, and Bavaria during the 19th and 20th centuries, making the suspicion that sausages contained dog meat "occasionally justified." Others have pointed out that there were disparaging mentions of the carts that European immigrants sold the sausage out of, and the common practice of bringing their dachshunds with them while they worked. Vendors in New York even began calling their products "dachshund sausages." The papers of the time contain mentions of these "dog wagons," and snarky asides about the quality of the food.
In 1871, a German butcher named Charles Feltman opened a stand on Coney Island which served hearty European food. For the park's poorly paid workers, the cheapest item on the menu was the "Red Hot," a frankfurter sausage in a milk roll made from the most inexpensive ground meat and meat by-product that could be found. One of those employees, Nathan Handwerker ate them every day at work because he could afford nothing else.  Handwerker opened a hot dog stand of his own, in 1916. He produced a higher quality product, made from 100% beef, and sold them for half the price. Feltman was forced out of business by the 1920s, and Nathan's hot dogs were soon known nationwide.
There is also an ongoing debate about whether or not a hot dog counts as a sandwich. The National Hot Dog and Sausage Council (NHDSC) has declared that a hot dog is not a sandwich. The Merriam-Webster Dictionary, has stated that a hot dog is indeed a sandwich and United States Supreme Court justice Ruth Bader Ginsburg said that a hot dog might be categorized to be a sandwich, depending the definition of a sandwich. She clarified that a hot dog bun is a single roll that is not sliced all the way through like a submarine sandwich.
It all comes down to this debate:
Pros:
Supported by Merriam-Webster and Ruth Bader Ginsburg
Compared to a submarine sandwich
The open-face sandwich
Fundamentally contains the basic components of a sandwich: bread and stuff (meat)
Uses similar condiments to some sandwiches
Cons:
Bun is not two separate pieces of bread
Does not often contain sandwich fixings (lettuce, tomato, onion)
Uses specialized type of bread
Not supported by the NHDSC
Not supported by Joey Chestnut or Takeru Kobayashi
Condiments are not spread on the bread
Hot dogs have been connected with sporting events, most notably Baseball, almost since their beginning. By 1893, the hot dog was synonymous with baseball. Originally, and independently, both Chris von de Ahe, the owner of the St Louis Browns and a local brewery introduced hot dogs to pair with his beer; and Harry Stevens, a concessionaire at the New York Giants baseball stadium, who later built an empire encompassing most of the stadiums in the league by selling sausages in buns when the eggs, pie, and roasted nuts began to sell out early in the games. Today, every venue has its own versions of hot dog, from the purely plain steamed stadium dog to the generously long and flat-top grilled Dodger Dog.  Which, by the way, is possibly the only redeeming thing about that benighted franchise. Not that I am biased or anything, as a Padre fan…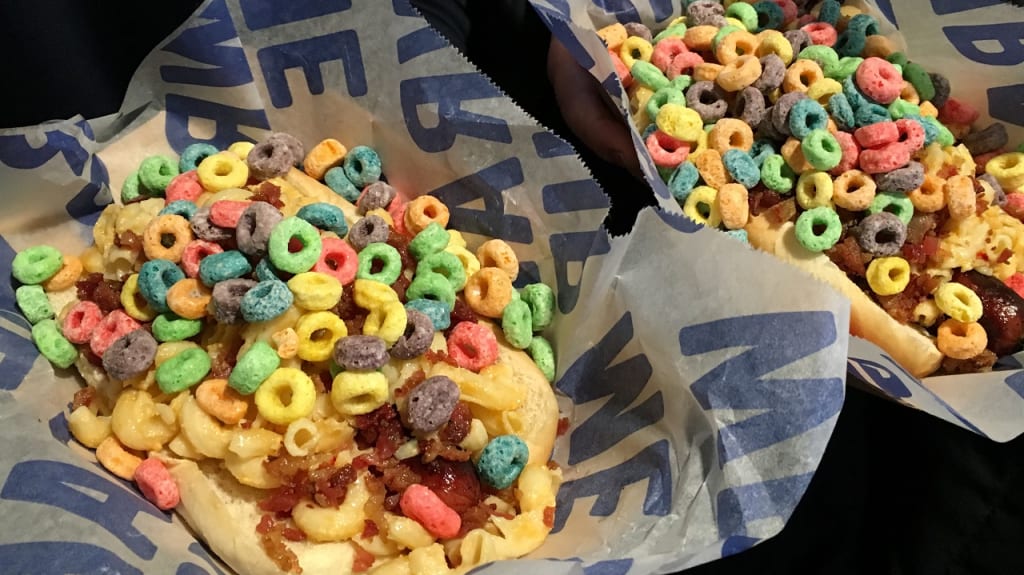 Photo courtesy of Major League Baseball (MLB)
There is the 2 foot long "Broomstick" dog at the Texas Rangers park, The Jalapeño Mac and Cheese dog that used to be sold at the Oakland Coliseum, the Slider Dog in Cleveland which is topped with mac and cheese, bacon and…FRUIT LOOPS, Wrigley Field's TV Dinner Dog is loaded with mashed potatoes, gravy, and corn, and the TED (The Everything Dog) at Braves field, covered in fries, chili, nacho chips, beer cheese, and jalapeños, topped with popcorn, then drizzled with Coca Cola-infused BBQ sauce. This proves that the humble hot dog can be the vehicle for all kinds of tomfoolery, and some of it even tastes really good.
Facebook Comments
comments