There are some foods that automatically just make life better. Coffee. Chocolate. Wine. Cheese. Mashed potatoes. But the crowning glory of that list, for me? Bacon. I'm the person who orders multiple sides of bacon because who only wants three slices?! I'm the person who, for my twenty-third birthday, requested cornbread and bacon for dinner. When I first heard there was bacon in a chocolate bar and I couldn't find it after calling around to all the grocery stores in my area, I ordered it online. Now, you may remember that not too long ago we posted an article about International Bacon Day back on September 3rd, written by Jerusha, containing some beautiful, beautiful ways to celebrate. But here in the good US of A? We really love our bacon and need our own separate national holiday for it. Get ready for some goodness with ten ways to celebrate National Bacon Day!
First, a comparison taste test: bacon cooked in a cast iron skillet versus in the oven versus in the microwave. Need some help if you're just used to nuking it? The Kitchn can help out with that.
Line up a TV binge! Watch your favorite Kevin Bacon movies, cooking shows with bacon episodes, or even find some bacon-centric episodes of geeky shows like How It's Made. I particularly recommend the Good Eats episode "Scrap Iron Chef: Bacon Challenge" because when is Alton Brown ever a bad idea?
Study The Baconian Method to use in your own life. It's a scientific method that uses the facts presented, and pretty much only the facts, to come to any sort of conclusion. Kinda like the fact that bacon is tasty, tasty pork candy. That's a fact, right?
Remember in Jerusha's post when she linked to the absolutely joyful Bacon Pancakes song in Adventure Time? Time to make your own!
Drink your coffee from a mug honoring the One True Bae: bacon and eggs.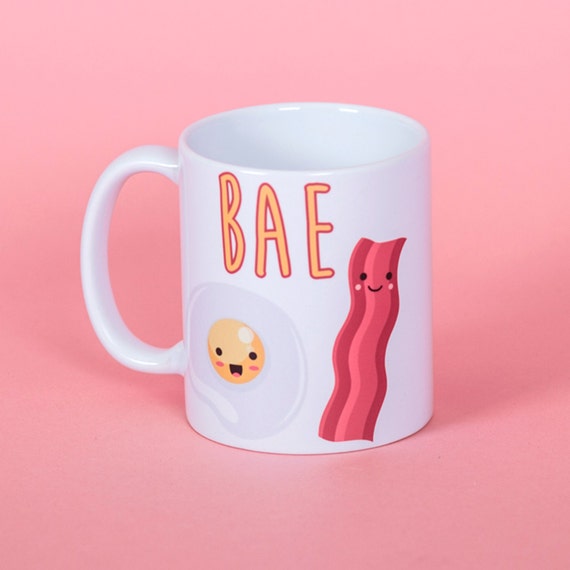 While you're at it, put some maple bacon coffee in there for serious deliciousness factor.
DIY time! Get some raw, uncured, unsmoked bacon (better known as pork fat). Try to this at the farmer's market when financially possible because knowing the pig had a good life and was cared for makes it way better to me (plus, the end result is crazy tasty). Then, with a labor-of-love 8 step method, make your own bacon. Curing and smoking your own bacon takes some time, but if the home cured and smoked bacon I've had is any indication? Totally worth it.
Need some lip balm but can't find any you like the taste of? Longtime Etsy shop Soap (also known as Bathing in Luxury) has a bacon lip balm to soothe your lips. Ever wanted to bathe in bacon? Try Epic Soap Co's Bacon bar soap packed with good for you ingredients. It's actually vegan but smells like bacon! Best part? You leave the shower feeling and smelling clean instead of like you tried to wash yourself with bacon.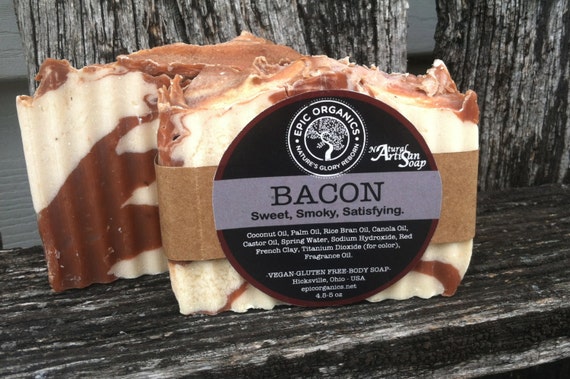 Does your décor need a little sprucing up? Pillows are the quickest way to do it, and bacon-themed pillows? EVEN BETTER! Zazzle has bacon pillows ranging from nerdy to adorable to looking like it belongs in a French café (seriously, that La Charcuterie pillow is calling me).
Love play dough or need some sensory stimulation? The Unusual Dough Co has a bacon-scented dough! The smell of bacon has been shown in some studies to flood the brain with happy chemicals, and who doesn't need more of that?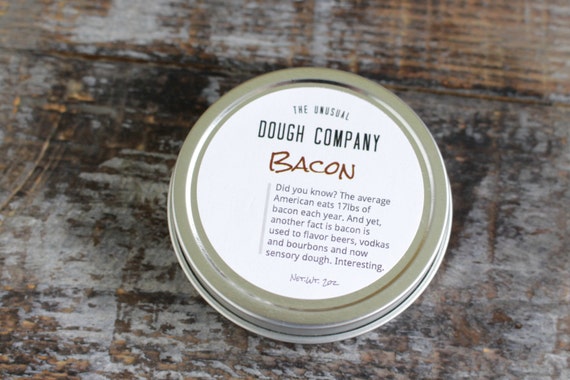 Want to include your pets? Bacon shaped catnip toys and squeaker dog toys will please any pet. Talk to your vet before feeding your fur babies real bacon. Some pets are a-okay with it while others just don't have the digestive power. The heartier the breed, the more likely they can indulge in a bit of bacon crumbled on their food that day.
Have fun celebrating your love of bacon!
Facebook Comments
comments