In times of hardship or loneliness, people often seek out their favorite comfort foods. Whether it be consuming a few too many brownies or an entire bag of Doritos, nearly everyone has been indulging in their favorite feel-good food lately. However, if you're sick of eating sweets, mac and cheese and pizza, it may be time to branch out and find new comfort food.
Luckily, each region in the U.S. already has its own favorite. The following dishes are just a few classics to try while you're stuck at home looking to satisfy your next craving.
1. Goetta
Goetta is a German-American breakfast sausage popular in the Cincinnati, Ohio area. The patty is a mixture of steel-cut oats, spices, pork and beef. Commonly, preparation includes shaping the mixture into a loaf, cutting slices and frying each one in pork fat. Serve with eggs and toast for a complete, traditional food favorite.
2. Pasties
Michigan's comfort food of choice is the Cornish pasty, which dates back to 1150 and made its debut in the United States in the 1840s. This dish was common among miners who could simply tuck this little meat and vegetable parcel in their lunch pails and munch on them throughout the day. Enjoy this tasty traditional with ketchup — or gravy if you want to look like a tourist.
Try this recipe from the Cooking Channel!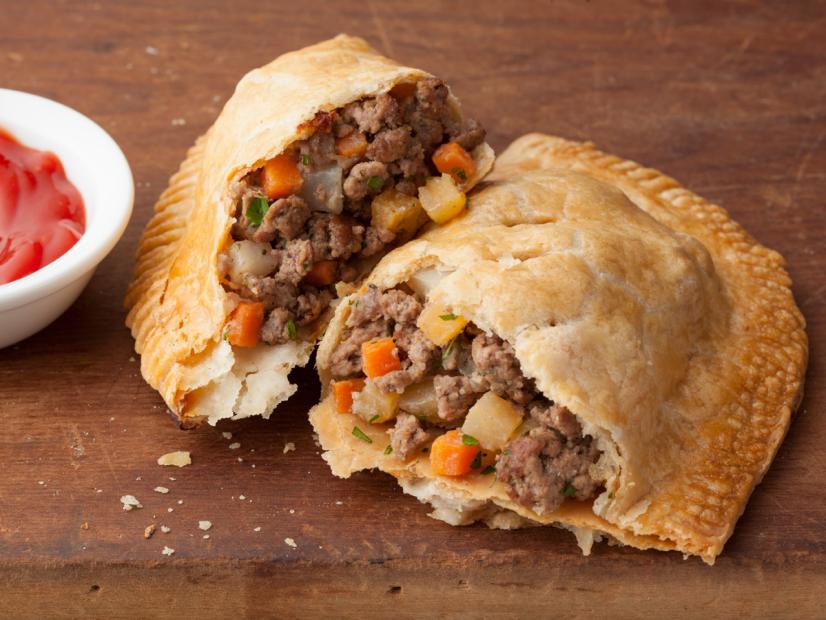 3. Bialys
If you're in New York and craving a bagel with a shmear of cream cheese, try a bialy. This breakfast staple is essentially a smaller, smushed, version of your classic bagel. There's also no hole in the center. Instead, there's a small indentation with room for extra toppings like poppy seed, garlic and sesame seeds.
4. Scrapple
Pennsylvania's scrapple is a Dutch creation made of ground pork, offal, coarse flour, spices and pork stock. Originally, farmers made scrapple so as not to waste leftover trimmings from hogs and salt and pepper were the main seasonings. Now, this dish is meaty comfort food with different spice combinations, flavors and extra savory ingredients. Give scrapple a nice sear before serving for signature crispness and a more traditional experience.
5. Loco Moco
Hawaii's loco moco debuted in the 194os and quickly became a staple comfort food among islanders. Traditionally, the dish consists of white rice with a hamburger patty, fried egg and brown gravy on top. The variety of ingredients in loco moco make it the perfect breakfast lunch or dinner, allowing you to indulge whenever you need some comfort.
Try this recipe from Keeping it Relle!
6. Gumbo
In Louisiana, gumbo is most people's comfort food of choice. This dish is a broth-based amalgamation of meats, spices, seafood and rice. Order Creole gumbo for a tomato-based seafood soup or cajun, which contains shellfish or fowl and has the consistency of stew. Odds are you'll find both types of gumbo all over the state, so be sure to try both!
7. Frogmore Stew
South Carolina's name for its favorite comfort food is misleading as Frogmore Stew doesn't contain frogs, nor is it a stew. Rather, this dish is a seafood boil that contains corn and shrimp, along with a variety of other ingredients like crab legs, potatoes and sausage. Honestly, anything that tastes good boiled would be a wonderful addition to this dish.
Try this recipe from Grandbaby Cakes!
8. Benne Wafers
Many southerners also have an intense love for benne wafers. These thin, crispy cookies are nutty, savory treats with sesame seeds on top. While you can order a package of these treats online, they'll likely taste better if you make them from scratch or visit Charleston and enjoy them fresh out of the oven.
9. Key Lime Pie
Most people believe key lime pie originated in the Florida Keys. However, new evidence suggests the first recipe for this iconic dessert came from New York City in 1931. Regardless of the pie's origin, this dessert remains a Floridian comfort food. After all, the ideal limes for this pie grow in the Florida Keys, making them readily available for anyone with a sweet tooth and a craving for comfort.
10. Peach Cobbler
Georgia's state fruit lends itself well to the classic peach cobbler. This delicious dessert is the epitome of comfort for many southerners who find the combo of vanilla ice cream, sugar, butter, cinnamon and peaches a delight for the tastebuds. If you're making this treat at home, be sure to use fresh peaches to embrace the traditional flavors of Georgia.
Try this recipe from The Slow Roasted Italian!
Comfort in Uncertain Times
With each passing day, it seems the future only grows more uncertain. In the face of a global pandemic, riots and economic downturn, take comfort in the constant of food. A few times each day, you'll sit down and eat a meal. Make these moments enjoyable by trying out a few new recipes. Explore various regions from your own kitchen and find new comfort foods to bring you peace — both now and later. You'll be happy you did.
Facebook Comments
comments