Today is February 14th and you know what that means… *eyebrow waggle*
That's right, y'all! It's Library Lovers' Day!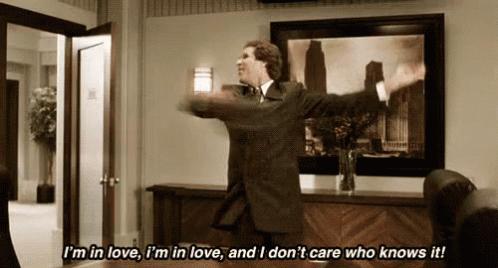 Same, Buddy. Same.
Libraries are some of the most magical places on Earth. There are lifetimes upon lifetimes of adventure and knowledge and experience contained within even the most humble libraries.  Though, I'm not gonna lie: the thought of taking a tour of the most beautiful and expansive libraries around the world gives me the vapors. But, as a kid who was brought up in rural Kentucky, there's something about small town libraries that feel even more enchanting to me. I miss that time worn smell of the reference section and glancing up to watch the motes dancing in the light streaming in through the windows. It feels like being able to roam the world, while still cocooned in the comfort of the familiar.
So, I'd like to take this Library Lovers' Day to pay tribute to those small town and rural county libraries. Those institutions are vital to the dreamers, inventors, scholars growing up in small towns and villages across the country. Here are five small town libraries I dream of visiting.
Taylors Falls Public Library – Taylors Falls, Minnesota
Isn't it adorable?! This squee-worthy Carpenter Gothic building was built in 1854. It was a tailor shop until 1887, when it was converted into a library. And it's totally still in operation!
Langhorne Library – Langhorne, Pennsylvania
Though this Gothic Victorian wasn't built until 1888, the Langhorne Library's history can be traced back to a Friends Meeting that took place in the Quaker village in 1691. It now serves Langhorne as a historical reference library and museum.
Newbury Public Library – Newbury, New Hampshire
Newbury, NH—once home to John Milton Hay—is a small town of about two thousand residents. Well, when it's not tourist season anyway. This little library looks like the coziest place to set up shop in the fall with a compelling historical fiction novel.
Bath Community Library – Bath, North Carolina
North Carolina's first town and famous for having been the home of Edward Teach, Bath is a small town on the sitting near the mouth of the Pamlico with a population somewhere around two hundred and fifty people. Otherwise unassuming, the Bath Community Library's entrance—nestled under that vibrant climbing foliage—is just beckoning me inside to embark on a new adventure.
Sublette County Public Library, Pinedale Branch – Pinedale, Wyoming
Servicing a population of just under two thousand, this library is, pretty obviously, a young'un. Still, it has all kinds of character. Can you imagine looking up from your book and out those windows to see the bright blue, mountain country sky?! Just the thought of it is somehow both calming and exhilarating.
Is there a spectacular small town library near you? Let us know in the comments!
And before I sign off and day dream some more about libraries, I just have to say: please support your local libraries! Local public libraries are valuable community centers that democratize access to knowledge and welcome everyone. Help keep their doors open—patron your local public library!
Facebook Comments
comments