Shel Silverstein spent his life creating, from one end of the artistic spectrum to the other. While he's mainly known today as a children's author and poet, his career cut a much wider path than that.
He started out as a cartoonist in the Pacific Stars and Stripes when he was a GI in Japan and Korea. It was there that Silverstein "narrowly avoided the world's first cartoon-related court martial," according to Mental Floss. Thus began his illustrious career.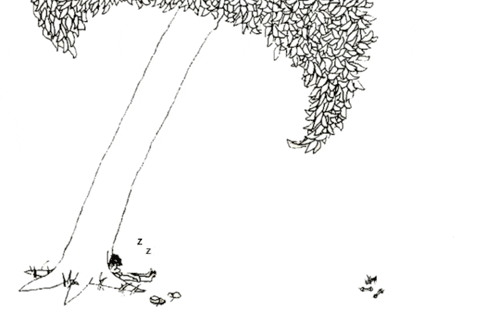 Silverstein wrote over a hundred plays, some of which followed his weird and wonderful vibe– the main characters in "No Skronking" don't know what skronking is, for example– while others were decidedly more adult in character–one bears the title "Two Hookers and a Dead Pony." He also had a regular travel column in Playboy magazine in the 50s and 60s– that's where he first published this gem of a Hamlet satire.
His songs have been performed by Waylon Jennings and My Morning Jacket. A cult favorite is "Sylvia's Mother," although his best-known song is probably "A Boy Named Sue," popularized by Johnny Cash (who also recorded Silverstein's "Boa Constrictor").
And then there's the Silverstein most of us know– the Light in the Attic poet, the Giving Tree author. The books we dove into as children, which celebrated kids being kids, boogers and all. Yet, even though children worldwide (and the adults who've kept their inner child alive) love Silverstein for his unadorned and whimsical style, his books have been banned by the humorless hordes railing against poems such as "How Not to Have to Dry the Dishes" (said to promote "disobedience") and "Ladies First" (cannabalism!!).
It is true that Silverstein's characters often showed us how not to act– who hasn't marveled over the wild lies of Peggy Ann McKay, who did not want to go to school today, or those of the narrator of "True Story," who narrates his own death in the end? But no one wanted to share the mysterious (and certainly sinister) fate of Sarah Cynthia Sylvia Stout, who would not take the garbage out, or that of Little Abigail, who DID die because her parents wouldn't get her a pony.  These were poems about not picking up your toys, about being picky and bossy, about lying and disobeying— all the while refraining from moralization or chastisement. Shel simply held up a mirror to his readers, followed these behaviors to the punch line consequence, and let the kids sort it out on their own.
As a child, I remember occasionally messing up my bedtime prayer when I subbed in Shel: "If I die before I wake, / I pray the Lord my toys to break. / So none of the other kids can use 'em." I remember reading his poem "Colors," and wondering, as only a child (or a poet) could, what the colors that "hadn't been invented yet" could possibly look like. I remember commiserating with the King in "Peanut-Butter Sandwich," believing, as I did then, that a PB&J was close to the pinnacle of culinary enjoyment. And I remember being traumatized by the drawing that accompanied "Thumb Face."
As a matter of fact, it's hard even to discuss Shel's linguistic art without pulling in his black and white, pen and ink drawings. They weren't just accompaniments; many of his poems required the drawing to deliver his punch line, or to shade the meaning of the poems themselves. I'm sure "Thumb Face" wouldn't have traumatized me at all without the queer drawing of that strange little face embedded in a thumb pad. And the tiny namesake of "Melinda Mae" wouldn't have earned my respect if I hadn't seen the picture of her digging into that whale when she was young, only to turn the page and see her finish it off eighty-nine years later! And the poignant drawing of a teary and bowed little girl that accompanies "For Sale," in which an older brother tries to auction off his sister, still tugs at my heartstrings.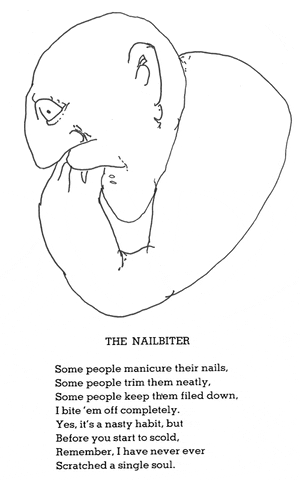 Adults revisiting Silverstein will chuckle at lines they may not have understood fully when they were young. In "Lizard" he quips, "A lizard in a blizzard / got a snowflake in his gizzard / And nothing else much happened, I'm afraid, / But lizard rhymed with blizzard / And blizzard rhymed with gizzard / And that, my dear, is why most poems are made." Touché. I surely did not laugh out loud as a child at these lines from "Hurk" the way I did the other night:
I'd rather play hurk than go to work
Hurk? Hurk? What's hurk?
I don't know, but it must be better than work!
"I would hope that people, no matter what age, would find something to identify with in my books; pick up one and experience a personal sense of discovery," Silverstein said in one of his rare interviews. In a way, those of us who grew up with Shel are the lucky ones. Before anxiety was at a fever pitch, Shel taught us that everyone experiences the Whatifs. He embedded in our subconscious minds the belief that anything is possible. And equally importantly, he taught us to "put something silly in the world / that ain't been there before."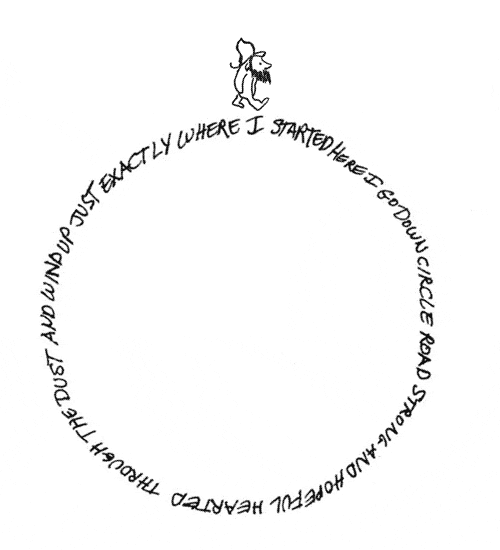 Those of us who've experienced and loved Silverstein's genius have enjoyed his life's work not just for what it is, but for what it can be. A carnival of wonder, humor, and hope. A small window peeking in on our shared human experience. A reminder to love each other as we love ourselves, foibles and all. And a passionate and persistent voice urging us all toward creativity.
WRITESINGTELLDRAW

By Shel Silverstein

I've told you a hundred tall stories,

I've sung you a thousand sweet songs,

I've wrote you a million ridiculous rhymes

(Though sometimes the grammar was wrong).

I've drawn you a zillion pictures,

So being as fair as can be,

After all that I've writtensungtolddrawn for you,

Won't you writesingtelldraw one for me?
Save
Facebook Comments
comments