It is no secret that I am a crafty wench.  There isn't much I can't accomplish with a glue gun, Pinterest, access to my local craft store, and Youtube.  I may or may not have an art supply problem… I prefer to reframe it as an art supply opportunity. At least that is what I am going with now.
I love things that mix things that are traditionally conservative and kick it a step (or three) to the left. Nothing says both sweet and raunchy like bitchy cross stitch. I have more pinned projects than I will ever get to – but I can't help myself. They make me so happy.
Here are a few of my favorites:
I want this because I am totally a Dorothy.
Pin it | Make it (Note: it's currently listed as unavailable, but you could favorite Snarky Art Company's shop to see when they relist)
And because I know you are all singing it in your heads:
You are welcome.
Am I the only one who thinks a Uterus and Ovaries look like a bull head? No? Just me?
I have a glue gun and I'm not afraid to use it! Don't test me.
I need this in my house. Stat! The folks over at the Stranded Stitch on Etsy have so freaking many great ones. You can find their store by clicking here.
Well – It is a really nice Butt:
Spatial Awareness is crucial
I was totally singing this in my head too.
Another reason why Michael Scott is my homeboy for life. I'd try to stop but it was just too hard.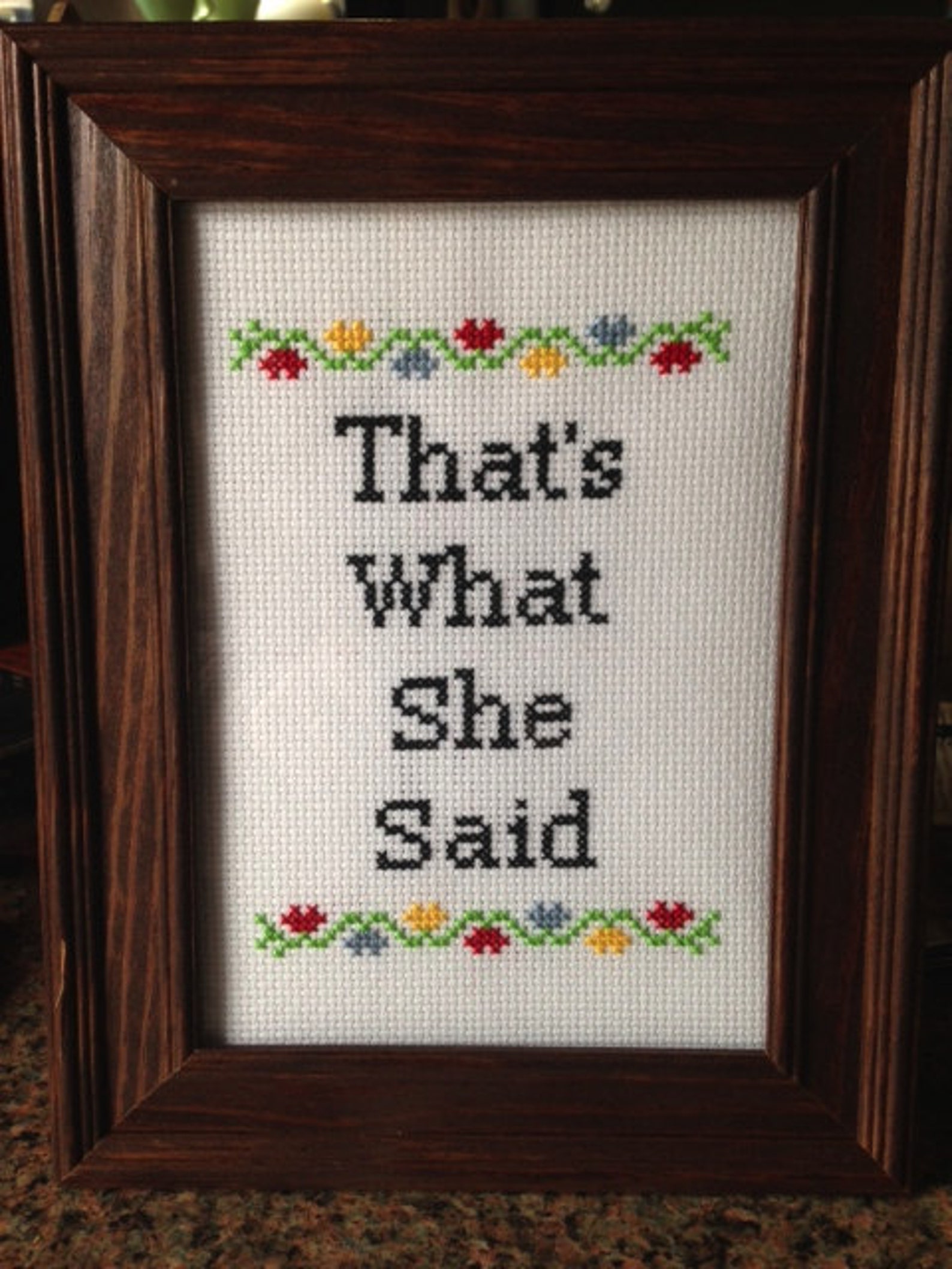 Do you have your Zombie Apocalypse Plan ready?
Actions speak louder than words
This one just made me laugh
And lastly
Manners First – Always
If you liked these and want to see more, check out the Subversive Cross Stitch Blog by clicking here .
If you need me, I'll be over there, stabbing fabric over and over again.
Everything is fine. Nothing to see here.
Facebook Comments
comments