I've been told, more than once, that I spoil my dogs.  My response is always the same. Their lives are short, so we have to squish all the joy (and snacks!) we can into our time together. Did you know that February 23rd is National Dog Biscuit Day? Sounds like just the excuse I need to break out my favorite baking supplies and have a guilt-free celebration baking delicious dog cookies for my favorite canine companions!
Here are my suggestions for what you will need to create the perfect dog biscuits:
COOKIE CUTTERS: I have several fun cookie cutters; the dog shaped ones are my personal favorites, but my dogs seem to like cookies made in the shape of actual dog bones. Go figure. I have several different sized bone cookie cutters, so I can vary the size of the dog biscuits I make.
BAKING PANS: A friend recently gave me a Nordic Ware Puppy Love Treat Pan and it's awesome!  I can make an entire tray of dog treats in the time in normally takes me to roll out and cut the dough using my cookie cutters.  Definitely a great time saver or if you need to make sure all of your cookies are exactly the same size.
COOKIE STORAGE: I often just store my homemade dog biscuits in Ziploc bags, particularly if I am able to freeze some of what I've made.  I do, however, love a cute, yet functional, dog cookie jar, and this one that I bought for my daughter's dog has a tight-fitting lid to keep the dog biscuits fresh.
I'm a messy cook, so I definitely need an apron when I'm in the kitchen.  I have several dog-themed aprons, but this one is my favorite.  You can find it here:
Just in case you don't already have a favorite dog cookie recipe, here are a few that have already been taste-tested and approved by my dogs.  Making your own dog biscuits means you can control what your dogs are eating; trade out ingredients that your dog can't have if they have food allergies or sensitivities, or simply change an ingredient to accommodate their favorite flavors or to cut calories.  For example, a lot of dogs love peanut butter, but for those who don't, try substituting almond butter or sunflower butter instead.  And remember adding oats gives texture to your dog cookies, adding pumpkin is a tummy soother, and fruit will naturally sweeten them, adding texture and color as well!
Bacon Flavored Dog Biscuits from All Recipes
DIY Homemade Dog Treats from Woman's Day
Pumpkin Dog Treats from Smart Penny Pincher
Apple Carrot Dog Biscuits from Reluctant Entertainer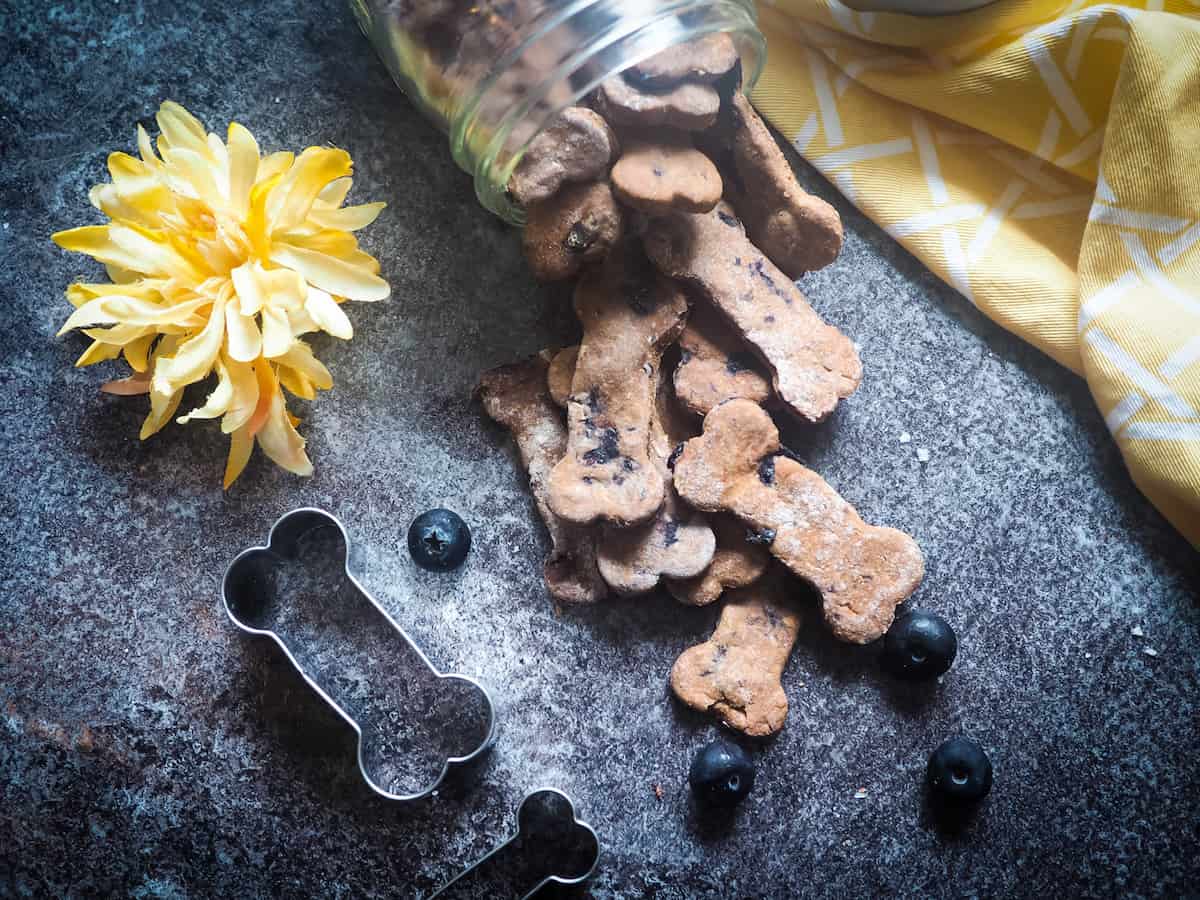 Blueberry Dog Treats from Southern Bites
Facebook Comments
comments