Today, we are celebrating the samarium birthday of one of the most widely recognized figures in educational television programing in the United States: Bill Nye!
Bill! Bill! Bill! Bill!
Bill was born on this day in 1955, to Jaqueline Jenkins-Nye and Edwin Nye—a WWII codebreaker and a WWII veteran, respectively—in Washington, D.C. Bill would go on to graduate from Cornell—where he took astronomy taught by Carl Sagan—with a degree in mechanical engineering, work for Boeing, moonlight as a standup comedian, develop and host a nineteen-Emmy-Award-winning educational program, hold numerous patents on his own designs, and—in the course of his science advocacy—become one of the most recognizable figures in popular culture. Moreover, he's become a resonating voice on topics like social justice, climate change, and better scientific literacy among (in particular) our lawmakers.
To honor of The Science Guy, himself, and his sixty-second birthday, here are some of our favorite gifs and videos of one of our nerdy pop culture icons!
Are you ready to science? Bill's ready. Bill was born ready.
Thank you for blowing our minds in the best possible ways on the regular.
And thank you for this moment; this gif comes in so handy.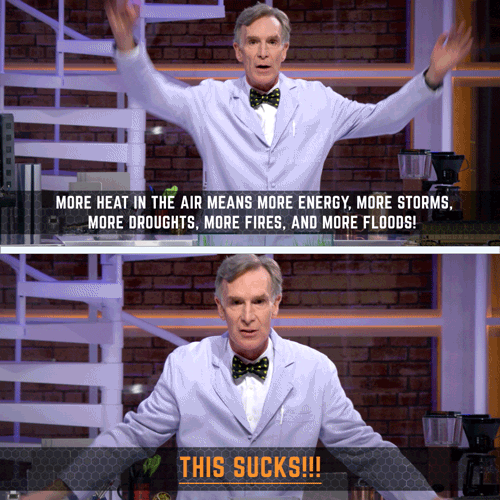 You know what doesn't suck, though? Having you on the planet's side, Bill.
Submitted without comment, just bask in its glory.
My money is on the Science Guy—he's scrappy.
YESSSSS! Also? Be sure to click through to part 2!
Bonus only-tangentially-related-to-science-but-also-super-adorable video:
Look at that smile at the end there! It makes my heartparts smiley too.
Happy Birthday, Bill Nye! Thank you for all that you have done and continue to do—your presence makes the world a bit brighter, more inspired, and so very curious.
Everyone you will ever meet knows something you don't. – Bill Nye
Facebook Comments
comments