It's January 6th, 2017 or, more importantly, Sherlock Holmes' 163rd birthday!
*sings* Now the party don't start 'til I walk iiiinnnn…
Interestingly, not once did Sherlock Holmes' creator, Sir Arthur Conan Doyle, mention a birthdate for the eccentric detective. While, in His Last Bow—set in 1914—, it is explicitly stated that Holmes is 60 years old, giving us a birth year of 1854, the month and day are much more nebulous and various fan theories have proffered a few different dates; January 6th seems to have taken the day, simply by virtue of the influence of a particular fan, Christopher Morley, who insisted on the date as Sherlock's birthday. Morley, an essayist, co-founded the Baker Street Irregulars in New York in the 1930s. The Baker Street Irregulars, named for the ragtag group of kids that Holmes would employ as little spies, is the oldest Sherlockian society and its membership has included the likes of Isaac Asimov and Neil Gaiman. (Not-so-fun fun fact: The Baker Street Irregulars refused to admit women until the 1990s. *side eye*)
There are two theories that back up the January 6th claim, though neither are particularly compelling. The first of the two is that, while Sherlock often quotes Shakespeare, the only play he quotes more than once is Twelfth Night, which would seemingly indicate it holds a favored place in Sherlock's mind. It is a favorite, so the theory goes, because it references his birthday: January 6th, the twelfth day of Christmas. The other theory says that Holmes is particularly irritable at the beginning of The Valley of Fear, the last Sherlock novel. That novel begins on January 7th and he is, according to the theory, crankier than usual because he is hungover after his birthday celebration the night before.
Both theories seem like they're straining a bit too hard to me to put much stock in either. More likely than not, January 6th stuck simply because of Morley's continued insistence upon it and then theories were formulated to justify the choice; whether it was intended as an honor or as a convenient out for any family festivities, January 6th is also the birthday of Christopher Morley's brother, Felix.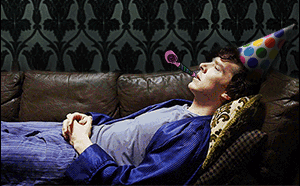 Regardless of any controversy around what may or may not be the official birthdate—inasmuch as a fictional character can have an official birthdate—, I am totally down with celebrating Sherlock Holmes any day. ALL THE DAYS. I have loved Sherlock Holmes—and just about every portrayal of the decidedly oddball detective—since I was young and small enough to pass as one of his Irregulars. One year, for Christmas, my sisters and I received a box set of the Reader's Digest Best Loved Books for Young Readers collection. Amid Little Women, The Jungle Book, The Adventures of Tom Sawyer, and so on, was Great Cases of Sherlock Holmes. I could not get enough of that book. Of all the books in the set, it was Great Cases' glossy brown spine that started to crack and give way. I cannot begin to tell you the number of times I read The Adventure of the Blue Carbuncle.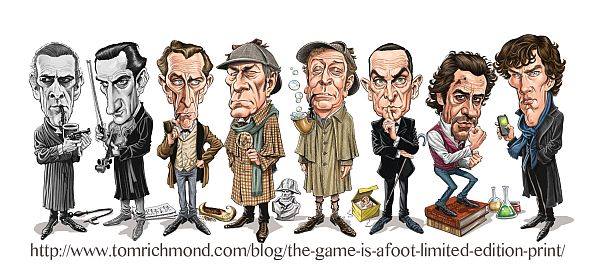 As a teenager, The Final Problem became my favorite Sherlock Holmes' story, in no small part because of the introduction of Professor Moriarty. It was around this time that I realized that "Sherlockian deduction" wasn't so much deduction as it was abductive reasoning. Nevertheless, I continued to find the stories compelling, so I suppose I can also credit Doyle and his detective with helping me to learn the value of suspension of disbelief!
Then, once I had both feet fully planted in adulthood, there was a resurgence of Sherlock Holmes' stories making their way to screens large and small. I have yet to meet one of these iterations of Holmes that I didn't like. Each of them bring their own flavor, their own humor, their own takes on Sherlockian adventures. And as a queer-identified feminist, I have taken a great deal of pleasure in watching the various new Sherlocks play with heterosexist assumptions.
There is yet another reason for my love of Sherlock Holmes: he is a distant ancestor of Star Trek's Spock.
That's a pretty impressive canonical lineage, if you ask me! I love intertextuality!
All of this is basically to say that, I, for one, have a boatload of reasons to celebrate that enterprising consulting detective. And I am certainly not hurting for ways to do so: the new season of the BBC's Sherlock is *finally* here! There are some pretty loud whispers about a third installment in Robert Downey, Jr.'s Sherlock Holmes movies in the works! And I haven't yet seen Mr. Holmes starring Sir Ian McKellan. The game is afoot, y'all!
So, Happy Birthday, Sherlock Holmes!
Facebook Comments
comments