On February 8, 1828 a baby was born to a bourgeois couple in the French seaport of Nantes. Of course, as the first-born boy, this kiddo was expected to follow in his father's footsteps and was educated to that end, obtaining a law degree in 1851. Rather than practice law, this young man wrote to his father, "Am I not right to follow my own instincts? It's because I know who I am that I realize what I can be one day," and proceeded to embark on a literary career. A poet, a playwright, and a novelist, his legacy continues to have a profound impact on our world.
Text portrait by Juan Osborne
Jules Verne, having access to Parisian salons by way of his bourgeois status, met playwright Alexandre Dumas (yeah, that Dumas. The Three Musketeers Dumas.) and eventually became friends with Alexandre Dumas, fils. Dumas fils, a playwright like his father, ended up having a tremendous impact on Verne's early career, including getting Jules Verne in the door for a job—arguably closer to an unpaid internship—at Théâtre Lyrique where he had the opportunity to collaborate on, write, and produce several stage productions. Oh, and this was while he was still finishing up that law degree his dad made him pursue. His early experiences with the theatre would go on to inform some of his later successes.
Jules Verne and his powerhouse of an imagination are, at least, in anglophone countries, best known for his Voyages extraordinaires—a series of fifty-four novels, including Journey to the Center of the Earth and Twenty Thousand Leagues Under the Sea. Though his passion was theatre, Verne's first paying gig in the literary world was writing educational fiction for Musée des familles (The Family Museum)—the combination of adventure narrative and diligently researched themes and topics he developed in writing for this magazine ended up becoming his signature. It was also that combination that found a happy fusion in his writing that earned him the title—though, it is a shared and debated title—"father of science fiction."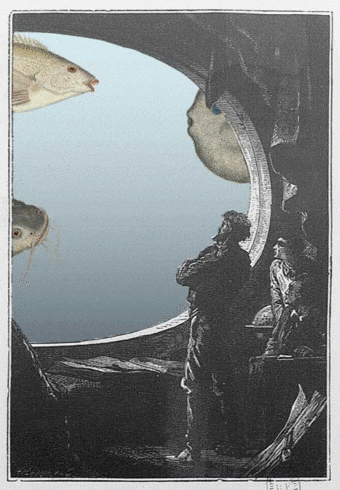 His blending of the real, the fantastic, and scientifically-grounded extrapolations led him to describe inventions and circumstances that were over a century away from becoming reality: among other things, he descriptively predicted video conferencing, lunar modules, and, arguably, the geopolitical struggle for control of resources in the Arctic. In fact, the first Automatic Transfer Vehicle (ATV) launched in 2008 by the European Space Agency was named for the visionary author. Along with supplies for the crew of the International Space Station, the Jules Verne ATV also carried two original manuscripts into space, "to pay tribute to his inspirational work."
Photo copyright: ESA – Librairies of Amiens Metropole and P. Gondolo de la Riva
 Photo copyright: NASA
Drawing on his love of and early experiences in the theatre, he adapted a number of his "scientific romance" novels for the stage. These stage productions were wildly successful, earning him a better income than the sales of the novels. He did not limit himself to direct adaptations, either. In fact, the Jules Verne story with the most elements of science fiction is actually a play. Written in 1882, Voyage à travers l'impossible (Journey through the Impossible), is the only of his pièces à grand spectacle plays that was not directly adapted from a novel, though it does contain elements drawn from several of his Voyages extraordinaires stories, including easily recognizable heroes.
https://www.youtube.com/watch?v=_g_yqDsXD4M%20
1904 Georges Méliès' silent film adaptation of Voyage à travers l'impossible, with narration
Oh, and here's a fun fact: Jules Verne totally wrote fanfiction. No joke! Some of his earliest writing was done in the style of Victor Hugo, one of his literary heroes—and one he did have the occasion to meet. He was also a big fan of Edgar Allen Poe and a lot of his inserting the fantastic into the mundane real world was very much inspired by Poe. Verne remarked in the 1860s that he felt Poe's only novel-length work—The Narrative of Arthur Gordon Pym of Nantucket—felt incomplete and he wanted to tackle the project of finishing it. And he did just that with An Antarctic Mystery, which was published in 1897. That's right, E.L. James—you've got a long way to go before you can rival that kind of fanfic!
Jules Verne is, even now, among the top three most translated authors ever—usually ranking between Agatha Christie and William Shakespeare. Sadly, most early translations of Verne's stories into English were just patently awful. Because so much of his elegant prose was wrecked in translation, Verne was, for quite a long time, dismissed as a genre or children's book author. Even in France, toward the end of his career, his commercial successes seemed to chip away at his perceived legitimacy as a serious author within French literary circles and then—thanks to market saturation of books written in a Vernian style—his commercial success began to drop off as well.
In fits and starts, beginning after his death with the "Jules Verne cult," Verne's reputation has been rehabilitated. Far more accurate and artistically faithful interpretations have been published and Verne has finally entered the ranks of literary greats worthy of academic study. Just as Jules Verne has reemerged as a giant in the literary world, so has he in popular culture as well—this is particularly evident with the rise of steampunk, which very much draws on a Vernian aesthetic. In fact, you can visit a steampunk theme park inspired by Jules Verne in his hometown of Nantes, France.
How rad is that?!
Happy Birthday, Jules Verne! And here's to all the minds you have inspire and to all the ones you will inspire!
Facebook Comments
comments