Born July 24, 1951 in Phoenix, Arizona, Lynda Carter has been one of the most recognizable faces (and voices) in pop culture since the 1970s. Especially, if you're into nerdy and/or cult classic sorts of things. Though best known as Wonder Woman and as 1972's Miss World-USA, Carter is a singer and songwriter, as well as a live-action and voice-over actor with credits in film, television, and video games.
Lynda Carter seems to be one of those folks who was born to perform. Her first television appearance was at the age of five, on Lew King's Talent Show. Throughout elementary and middle school, she took dance lessons and later, in high school, she performed in musical theatre productions. She was also a singer for two different bands during her high school years, the second of which, The Relatives, she formed with two of her cousins. Oh! And Gary Burghoff (y'know, Radar!) played the drums! After graduating, she went on to study at Arizona State; well, until she dropped out to pursue a music career. She performed with The Garfin Gathering for two years before returning to Phoenix in 1972.
After her return to Phoenix, she entered a local beauty pageant, which she won. She went on to compete at the state level and won the title of Miss World-Arizona. She would then represent the state in the Miss World-USA pageant. She won that, too. Next, she represented the United States in the international Miss World pageant. Though she did not win that crown, she was one of the 15 semifinalists out of a field of 53 contestants. After fulfilling her duties as Miss World-USA—duties which she very much disliked, Carter moved to Los Angeles and, using money from her winnings and some money that her father had saved for her, took a few years of acting lessons. She managed to land appearances on Nakia and Starsky and Hutch, before getting the role that would ignite her career. She auditioned for the lead role in a production based on Irving Wallace's The Fan Club; the producer did not think she was right for that part, but recommended her to a friend who was casting for a new Wonder Woman pilot.
For decades, Lynda Carter has been the face of Themyscira's Champion—a role she, reportedly, snagged because she "looked the part." (And, yeah, looking at the comic books from 1971-1974, Carter did kind of carry the Diana Prince vibe.) For three seasons—one on ABC and the other two on CBS—Wonder Woman came to life in ways that were both campy and groundbreaking: I mean, yeah, she fought a brainwashed gorilla named Gargantua—that's pretty campy; but, at the same time, in the first season of this iteration, Diana Prince was a naval intelligence officer, Yeoman Diana Prince, not a nurse as she was in the comic books. Her costume looks more like lingerie than armor, both lending to the campiness and catering to the male gaze; the show also cast Lyle Waggoner, who had been Playgirl's first centerfold two years prior, acknowledging the burgeoning, subversive idea that there just may be a female gaze too. Oh, and let's not forget that Carter actually performed some of her own stunts and that, when she wasn't stunting, the show employed some of the first few female professional stunt doubles—including Jeannie Epper, who is now seventy-six years old and still working.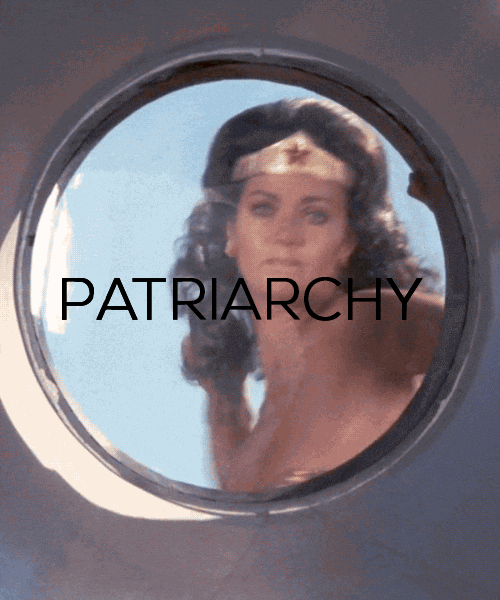 Though she did have to struggle with typecasting after Wonder Woman's run, Carter's life didn't really seem to slow down: four musical television specials, a Rita Hayworth made-for-TV biopic, Partners in Crime with Loni Anderson, and several other made-for-TV movies kept Carter busy for years. After some big changes in her personal life, including a divorce from her manager-turned-husband, a new marriage, and the birth of her two children, she eventually went to rehab for alcoholism. She has now been sober for 20 years. Through all the ups and downs, though, she has embraced the career-defining role and has gone on to contribute to the DC universe in other ways, with a small role on Smallville and her latest role as President Olivia Marsden on Supergirl. She has also taken to poking some fun at herself and her iconic role as the Amazing Amazon. In 2005's Sky High, she plays the headmistress of a school of budding superheroes and, at one point, explains, "I can't do anything more to help you. I'm not Wonder Woman, y'know." She had some fun with her own brief history on the pageant circuit, playing a washed-up beauty queen Lynette in The Creature of the Sunny Side Up Trailer Park.
Lynda Carter is still performing as a singer. She did a two-month stint as "Mama Morton" in a 2005 production of Chicago; toured a "one-woman cabaret" called An Evening with Lynda Carter; she recorded two more albums (2009 and 2011), with another on the way. She's provided voice acting for five of The Elder Scrolls video games and she voiced Magnolia in Fallout 4, as well as co-writing and recording original songs for the game.
In addition to her work as an artist, Carter has also done advocacy work, bringing attention to causes ranging from breast cancer and irritable bowel syndrome to LGBTQ rights and reproductive justice. She also spoke at an event celebrating the fact that, to honor of the character's 75th anniversary, the United Nations named Wonder Woman its Honorary Ambassador for the Empowerment of Women and Girls. …which it then revoked amid arguments about her scantily-clad appearance, a course of action that Carter found to be sexist and anti-feminist.
(Author's commentary: I don't disagree with Carter on this point. While I super appreciate that the new Wonder Woman costume is way less sexy-for-sexiness'-sake, there is no reason why heroism and sexiness can't coexist. More importantly, there are way more substantive critiques to be made of the Wonder Woman franchise as a whole, but that's another essay for another time.)
So, today, on her 66th birthday, let's take a moment to celebrate Lynda Carter and the impact she's made on popular culture. Speaking of which, the Hollywood Chamber of Commerce got a jump on everyone when they announced last month that Carter will receive a star on the Hollywood Walk of Fame next year—that's a hell of an early birthday present!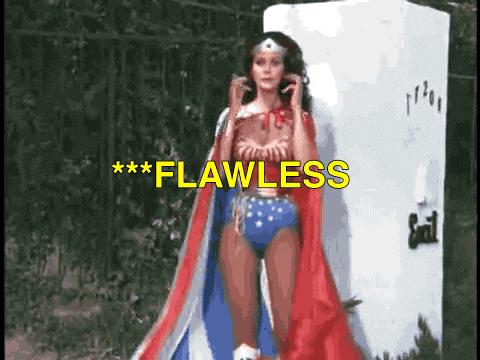 Save
Facebook Comments
comments