An aside: my mother told me, when I was around ten years old or so, that there were some times when cussing was appropriate: "gee willikers" is just not going to cut it when some drunk driver rear-ends you, pushing you onto a train track. And, by and large, I have tried to heed that lesson in professional and educational arenas, as well as in my public writing; in real, day-to-day life I use the shit out of some sentence enhancers. My spoken sentences are fancy af. And this recap is about to be too; if that bothers you, here's a profanity filter extension for you—for an added layer of protection, the back button is located in the upper left corner of most browsers.
Now, on to the next bit of housekeeping:
To those wanting to avoid spoilers: you don't have to go home, but you can't stay here.
HOLY SHIT, Y'ALL.
The season finale held a lot of the things that I expected to see: White Walkers advancing, escalating tension in Winterfell, the truth of Jon's parentage spelled out, and a really nerve racking parley. It also held some things that I wanted to see, but wasn't necessary anticipating: Tyrion and Bronn reuniting, some definite hype for a future Cleganebowl, Cersei actually looking genuinely afraid of an immediate physical threat that she hadn't previously believed in—twice, even—, and Theon finally deciding to fortify and do what needs to be done. And it definitely had some shit I was not expecting: including a rather dejected looking Tyrion.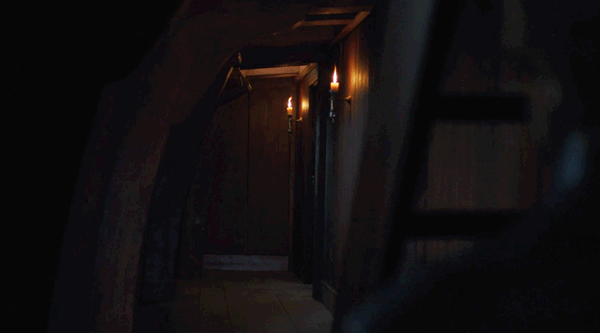 I hope that's not about what I think it's about… shit is complicated enough already.
The episode opens on the walls surrounding King's Landing where Bronn and Jaime are overseeing preparations to defend the city against the very large army of Unsullied just outside their gates. And we spend an unnecessary amount of time listening to Bronn obsess about the status of other folks' genitals—ugh. The continued reliance on this whole cult of the phallus thing and the racist shit thrown around about the Dothraki is really gross and is really fucking lazy writing.
It me.
We watch as the ships bring the myriad parties now involved in the Stargaryen alliance—save for Daenerys—into the Blackwater Bay. And then we see a number of awkward reunions as Bronn and Lannister soldiers escort everyone to the dragon pit: Bronn and Tyrion, Tyrion and Podrick, Brienne and Sandor. Brienne and Sandor is my favorite:
Do I detect a hint of a smile coming from Colonel Sandor?
Meanwhile, Cersei is pissed that Daenerys isn't with the rest of the cavalcade and gives FrankenMountain a specific kill list—the order and everything, because nothing says benevolent ruler quite like murderous Simon Says—, just in case. And Jaime just keeps running headlong into the realization that his sister is batshit. Cersei and her merry band of wtf-ery finally make their way to the dragon pit after having left Jon, Tyrion, Brienne, et al. a sufficient amount of time to make them all wonder if they're about to be ambushed. More awkward reunions ensue: Brienne and Jaime, Tyrion and Cersei, the Hound and FrankenMountain—which very much seems to hype the potential for a Cleganebowl next season. Then Daenerys makes her grand entrance—like a fucking boss—and the games begin.
I swear Asshole is the only language Euron speaks fluently.
After some bickering, snide remarks, and general asshattery coming from Team Cersei, Sandor carries the very large and heavy box full of corpsecicle to the center of the daises and proceeds to open the box to very anti-climactic silence. Then he kicks the crate over and wakes that ice zombie right the hell up and it immediate starts charging Cersei's dais. Once show-and-tell is said and done, Jaime looks like he needs a clean change of armor, Cersei actually looks both scared and convinced, and Qyburn looks way too into the whole undead thing. For a minute there, it looked like Cersei might actually try her hand at not being a self-absorbed, manipulative, power-hungry, murderous monster… but—Haha!—just kidding. The second things don't go the way she wants—specifically, finding out that Jon has already chosen a side by having sworn fealty to Daenerys—she walks away from negotiations. White Walkers, schmite walkers, Cersei couldn't give less of a shit. Brienne attempts to reach out to Jaime and convince him to talk some sense into his sister, for all the good that does. *eyeroll*
Y'all. I didn't actually think there was a circumstance so severe that Brienne would advocate abandoning her guiding virtue, but… here we are.
Tyrion puts himself on the line to try to turn the negotiations around. (See, Dany? He is a hero.) After his trying to explain some of his perspective and her just screaming at him, he changes his approach and tries to goad her into killing him. Despite all the hatred she's carried for Tyrion since his birth, she can't give the order. So, he tries talking to her again. Though she is still really antagonistic, she actually participates in the conversation. And, because she's Cersei, does so in a super manipulative fashion, intentionally leading him to draw the conclusion that she is pregnant (Maggy the Frog did say that she would only bear three children, she may be lying about the pregnancy and she may not be but, either way, she won't have another living child). Coming on the heels of Tyrion defending his love for his niece and nephew and his hurt at their loss, this seems like a very deliberate way of playing on Tyrion's feelings and it makes me concerned at what kind of terms he might have agreed to in order to get Cersei back to the table.
Liar, liar! Uneven hem on fire!
Up in Winterfell, Sansa has received word via raven that Jon bent the knee to Daenerys. For some gods-forsaken reason, Baelish is there and starts talking about how Jon was named King in the North and, therefore, he can be unnamed. And then he starts in on the relationship between Sansa and Arya, believing that he is leading her by the nose right to the conclusion that Arya plans to kill her and become Lady of Winterfell.
Ugh. Smarmy bastard.
Off at Dragonstone—having been assured by Cersei that she is taking up arms alongside them to fight the dead—, the Stargaryen party is establishing a plan of action for deploying their forces in the North. Jorah tells Daenerys that she should travel alone, by dragon, so that no distrustful Northerner tries to be a hero and kill the perceived conqueror. Jon argues that sailing to White Harbor together sends a better message if they are trying to show that they are allies. Daenerys sides with Jon. As the group disperses, Theon asks to speak with Jon. Ultimately, though there are some things that are not his to forgive, Jon forgives Theon. Theon makes up his mind to go rescue his sister. The other Iron Born at Dragonstone are having none of that, until Theon fights and kills the dude arguing the hardest against him.
Back at Winterfell, the tension is palpable as Sansa orders guards to bring Arya to the Great Hall. Surrounded by armed guards and knights, Arya asks Sansa if she really wants to do this. Sansa replies that it is not a matter of want, but a matter of what honor demands. Sansa declares: "You stand accused of murder. You stand accused of treason." Then asks, "how do you answer these charges…"
AHAHAHAHA! Yes! I was right!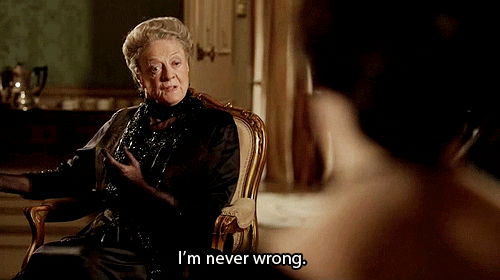 We'll just pretend that I never doubted my instincts, okay? Okay.
All the fake blubbering and pleading and attempts at explaining didn't to a damn thing for him.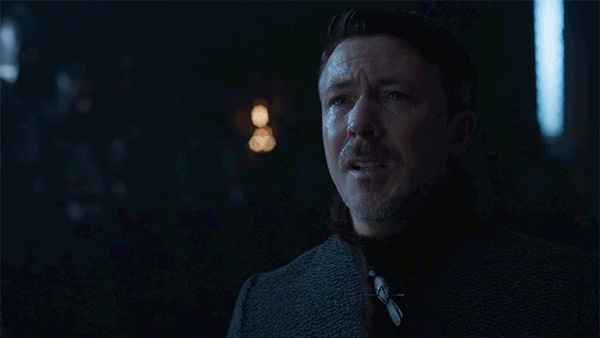 Meanwhile, in King's Landing, Jaime is scrambling to get things ready to march north ASAP when Cersei informs him—not without insulting him first—that she has no intention of sending anyone north. Further, she reveals that she and Euron had a whole scheme going on in the background: he's not retreating to the Iron Islands, he's sailing for Essos to ferry The Golden Company to Westeros. Jaime is livid and when he states that he's going to fulfill his promise and ride north, Cersei actually threatens his life. Though she can no more have him killed than she did Tyrion earlier, the damage is done. Jaime is sick of your shit, Cersei. He starts riding north, alone, as the snows finally begin falling on King's Landing.
That is the face of heartbreak.
Sam and Gilly arrive at Winterfell, which is super exciting! Sam makes his way up to Bran's chambers to talk and the two of them exchange the bits of information they know about who Jon Snow really is; when Sam reveals that Rhaegar Targaryen got his marriage to Elia annulled, Bran visits the past and narrates the scenes of Rhaegar and Lyanna getting married and reveals that Jon—no, Aegon—is actually the legitimate heir to the Iron Throne… all while Daenerys and Jon/Aegon are getting all brownchickenbrowncow on their journey to White Harbor.
You know, I have to admit that I am a bit concerned that this show has warped me enough that I'm all "gah! finally!" about an aunt and nephew getting it on.
That look on Tyrion's face though… I am really worried about what kind of promises he might have made to Cersei.
Sansa and Arya talk after Baelish's execution and they both seem to genuinely appreciate what one another has survived and what skills they honed in the process. This might actually be my favorite scene: the moment when sisters become sisters. And sisters you certainly do not want to fuck with. At all. Ever.
And then we see Bran in the Godswood, warging—it is through his eyes that we make our way to Eastwatch as the White Walkers and the army of the dead march on it. And we see the Night's King riding corpsecicle Viserion—shit. This is how he gets past the Wall—it wasn't because he managed to touch Bran; he's using the dragon to tear it the fuck down.
Fuuuuuuuuuuuuuuuu…
HOLY BALLS. Also, I am going to be so pissed if Tormund and Beric did not survive that. I mean, I know the odds are not great, but STILL.
Now that I am well and thoroughly terrified, I'm going to drink and know things and spend my Sundays wandering aimlessly.
Valar dohaeris.
Facebook Comments
comments