First, let me say that I adored this episode.  It highlighted the incredible chemistry between Tatiana Maslany and Kristian Bruun. Whether she's playing Alison, Helena, Cosima or Krystal, these two actors play off each other so well that the results are stellar every time. This week there were lots of laughs and no face bots, thankfully. I don't know about you, but I needed a break from the face bots.
Welcome back, Krystal!
If you've been wondering where our favorite manicurist has been spending her time, she's been logging some serious hours in the gym learning self-defense techniques and basically getting ripped (hats off to Tatiana Maslany). She's babbling on about all kinds of things like Dyad, twins, etc. to her trainer, who is too busy getting his butt kicked to listen to the details, thank goodness. She's like a ferocious bunny rabbit or something.
You can't crush the human spirit. #OrphanBlack pic.twitter.com/TuJVrWOWZL

— Orphan Black (@OrphanBlack) May 13, 2016
Krystal's research after being kidnapped has led her to BrightBorn, where she's immediately seen by Evie Cho. Evie mistakes her for Sarah and tells a visiting Susan Duncan and Ira about the rogue clone in the house.
Girls' Day!
Krystal wasn't the only person we haven't seen in a while, this week also showed us that Kira is still around, presumably has been hanging out with Siobhan, and she actually got some Mommy and Me time with Sarah. They were painting a mural that is vastly superior to Felix's creations, at least according to them. It was nice to see Sarah throttling back and spending time with her daughter, asking if Kira wanted to talk about anything, like her Dad. She didn't, and neither did I because we are both still hurt by his absence.
Sarah may have taken a time-out from chasing Neolution, but she's still suspicious of Felix's new sister, Adele. She steals a drinking glass that Adele had used and Felix's hairbrush, and has Scotty run a DNA sibling test comparing them. She's rightfully concerned for Fe, because the company they used to find each other is linked to Neolution, but as usual she comes off as an ass about the whole thing. It turns out that Felix and Adele are related. Adele might be an unwitting player in this whole thing but there's something amiss about it.
Weird Science
With Sarah playing Mom for a day (or part of a day, anyway) Donnie and Cosima pay a visit to the Brightborn informational session, with Cosima posing as a surrogate mother. It's good to see Cosima getting out of the lab for once! She gets to play like the other Scoobies and snoop around BrightBorn headquarters looking for clues about the science behind their fertility clinic. She finds answers, in the form of Susan Duncan, who talks with Cosima about their process but doesn't reveal herself (they have not met before). Cosima manages to lift Susan's key card and gets into a birthing room to find out what a newborn BrightBorn baby looks like. It's a heartbreaking moment when the baby is born missing part of its face, and the experience rattles Cosima to the core. By this time, Susan has figured out that her key card is missing and tracks down Cosima.
While Cosima creeps around, Donnie is hanging out with the other prospective parents, and gets a chance to hold an infant BrightBorn baby. You can see the longing on his face as he holds this little one, and you can imagine how he and Alison struggled to have children of their own. In the midst of this sweetness, Donnie looks up at the woman who has stopped to fuss over the baby, and good grief it's Krystal!  He panics a bit and excuses himself.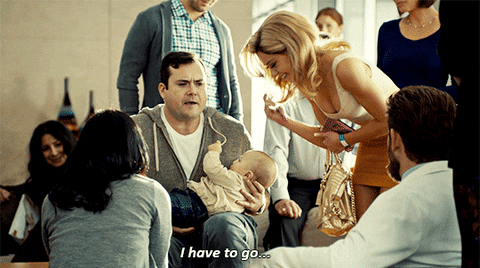 The scene with Donnie and Krystal in the spa is brilliant. Each of them is snooping around BrightBorn, and they are both trying to pretend like everything is normal. He poses as a massage therapist and she poses as a client who steals skin care products. Krystal knows something's up with BrightBorn, but she has no idea what it really is. In fact, she's hilariously wrong about the whole thing, as she explains to "Ronnie" her theory that BrightBorn's genetic manipulation leads to things like teeth growing out of eyelids. "Every time this woman blinked, something clicked." Errr, not quite, Krystal.
The Baseline
Cosima has a heart to heart with our favorite emotional manipulator, Susan, about why Neolution is continuing to experiment on humans.  It's not as if it's a perfect process, birth defects still happen and Cosima is sick, for goodness sake.  Susan knows just how to zero in on her, saying that Cosima was created to be a "beautiful baseline to unlock the mysteries of the human genome," and denouncing the baby carriers and the face bots as "brutish" compared to the Leda clones.  It all sounds so romantic, doesn't it?  She says that with the genome from Kendall, they can make a cure for all of the Ledas.  Here's my question, though, if they were all created from The Original, why don't they already have the genome?
It will be interesting to see how BrightBorn weaves into the Neolution fabric.  Can the sestras keep Krystal in the dark about the truth?  Should they?  Will Sarah spend more than five hours with Kira again anytime soon?  Will Donnie find a second career as a massage therapist?
Stay tuned, Clone Club…
Facebook Comments
comments